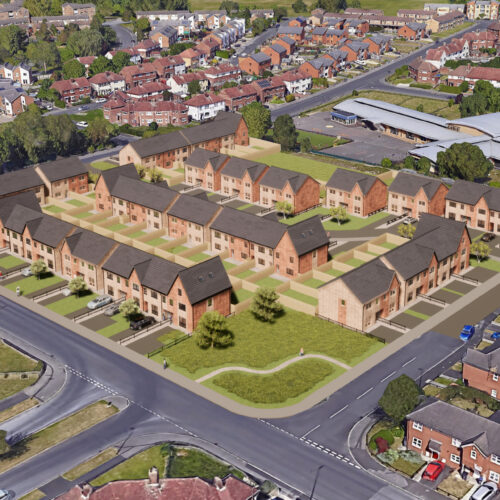 BACK TO ALL NEWS
£20m Blackpool residential development designed by Cassidy + Ashton given green light
Plans have been approved by Blackpool Council to build 131 new homes on 3.86 hectares of vacant land in Blackpool.
Cassidy + Ashton's town planning and architectural teams have worked with Blackpool Council on the £20 million project, which will see the construction of 96 affordable houses, five bungalows and 30 sheltered apartments.
30 eco-friendly homes and a new cycle path, partially funded by the European Regional Development Funds, are also proposed for the site.
The scheme will be developed by Blackpool Council which owns the land and will be managed by Blackpool Coastal Housing.
Cassidy + Ashton's design includes a mix of semi-detached and terraced homes and bungalows. The terraced homes will provide a sustainable density but reduce the overall footprint to maintain as much green, open space as possible on the estate.
As well as housing, the development plans incorporate 'pocket parks' and communal green spaces, and a children's play park. A new cycle path and pedestrian routes through the sites connect to local schools, parks and community facilities.
Claire Parker, chartered town planner at Cassidy + Ashton, said: "This development in Blackpool will provide new housing and improved community facilities and we are very pleased the scheme has been approved by Blackpool Council's planning committee.
"Our proposals will bring a mix of new affordable rental properties to the area, alongside a range of public open space for the use and enjoyment of new and existing Grange Park residents. The development will support local education and health services, provide much needed public open spaces as well as improving existing facilities within the local area."
The aspiration for the development is to create more sustainable homes through the inclusion of improved energy efficient buildings and the introduction of sustainable technologies such as using air source heat pumps.
Cllr Ivan Taylor, Deputy Leader of Blackpool Council, said: "I am delighted that this scheme is progressing to provide quality housing to meet local need on the Grange Park estate.
"The development will have a real focus on the environment tying in the current climate change project that is under way. Particular focus has been given to creating community green open spaces, a meadow grassland as well as improved cycle and walkways.
"Now that planning permission has been granted, we will finalise the timeline of work and share with the local residents. We promise they will be kept informed throughout the process."
Construction onsite in Blackpool is scheduled to commence in later 2021. Cassidy + Ashton will continue to support the development throughout the construction stage working alongside the successful contractor.
This scheme is partially funded by the European Regional Development Fund