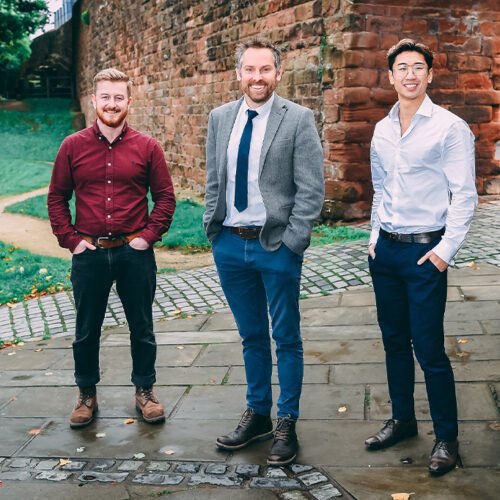 BACK TO ALL NEWS
Architect duo join Cassidy + Ashton's Chester team
Cassidy + Ashton has appointed an architect and architecture assistant in response to a growth of client projects across the region.
Qualified architect, Richard Williams, and graduate, Regan Jay Lee, join our architecture and design team, bringing the total headcount in our Chester office to 14.
Richard previously worked at D2 Architects in Chester. Prior to that he worked for several practices in London where he began his career in architecture after gaining a Masters in Architecture from the University of Kent.
Regan recently graduated with first class honours and a Bachelor's Degree in Architecture from Liverpool John Moores University. He will continue his education towards full qualification as an architect, combining studies with his day-to-day work at Cassidy + Ashton.
Architect Dan Thorpe, head of architecture at Cassidy + Ashton's Chester office, said on the appointments: "It's fantastic to welcome Richard and Regan to the Chester team. Richard is an excellent architect, his design ability has already made an impact, which coupled with Regan's 'fresh out of university' enthusiasm and creativity, strengthens our team's continued delivery of high-quality projects including working with Halton Borough Council, Cheshire West and Chester Council and the University of Liverpool.
"The appointments also reflect the excellent projects and new clients we have secured recently, who we are delighted to be working with. It's an exciting time for our Chester office and I'm personally proud to have the opportunity to lead such a great team."
With extensive experience in residential design, Richard has worked on many projects involving the extension and renovation of high-value bespoke domestic buildings.
He seeks to gain experience in the commercial sector in his new role and has a particular interest in ecclesiastical projects.
Richard said: "The Chester team is very inclusive, my new role at the practice feels like a natural progression in my career. There is a wide scope of opportunities to work across many interesting projects of great scale. I am particularly keen to work on heritage and ecclesiastical projects and developing community and civic architecture."
As part of the architectural and design team Regan will be involved in both residential and commercial projects. He has a particular interest in contemporary design, working with sustainable materials and creating spaces and places that improve the wellbeing and experience of the people that use them.
Regan finds inspiration from the designs of Kengo Kuma, a Japanese architect famous for his creative use of natural materials and spatial creativity.
He said about his new role at Cassidy + Ashton: "I feel very welcomed by the team at Cassidy + Ashton. I'm really looking forward to working across an extensive range of sectors and it's been particularly exciting to be involved in master planning projects right from day one in the role."