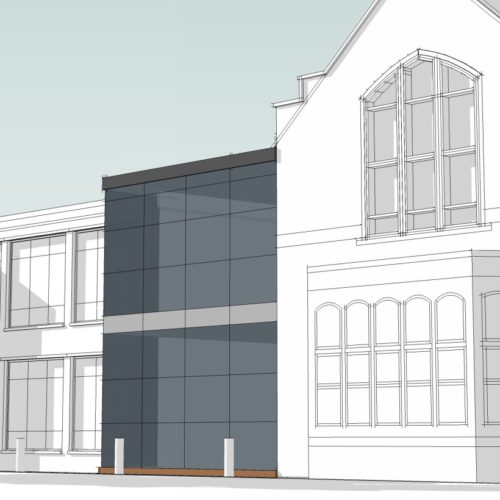 BACK TO ALL NEWS
Architects on Site to Address Growing Demand at Preston School
Architectural and planning consultancy, Cassidy + Ashton, has been commissioned by Moor Park High School and Sixth From to deliver a two-storey extension.
The £400k project, which has now started on site, will increase capacity at the Preston school from a four-form to five-form entry – an intake of up to 30 additional pupils each year.
The 1,100 sq ft extension is the school's third in as many years and will merge seamlessly with the existing building to create two additional classrooms on the ground and first floor levels.
It's part of a multi-phase redevelopment programme to provide additional teaching space, with previous phases, all designed by Cassidy + Ashton, including the development of Moor Park's inaugural sixth form centre and associated accommodation, a new state-of-the-art sports hall and dedicated learning environments for science and ICT.
Constructed from a lightweight frame clad in structural glazing, the extension is a delicate and transparent addition to the historic façade overlooking the iconic Moor Park.
Peter Cunningham, headteacher at Moor Park High School and Sixth Form, said: "Moor Park is recognised for the excellent standards of education provided for the students. Demand for places has increased as a result and we received a record number of appeals this year and had to create an additional class in Year 7. Now the governors have agreed to increase our admission number from next September, we are planning to provide new classrooms and extra facilities to accommodate the increasing number of students in the future."
"The school has been transformed over the past year with a new sixth form and improvements to all our facilities. Inspectors were very impressed when they visited us in September and praised the school and the students very highly. The increasing demand for places clearly reflects the commitment and dedication of the hard working staff team and students in Moor Park."
Alistair Baines, chairman at Cassidy + Ashton, added: "Our re-appointment to design the next phase of development is testament to the whole team, with phase 3 continuing to reflect the school's educational excellence and ambition to grow.
"There's an urgent need for additional school places following recent surges in demand and this project will help alleviate this pressure and ensure local school children are able to attend their establishment of choice."
Work is expected to start on site in January 2015, with completion set for summer 2015 to coincide with the start of the new school year.