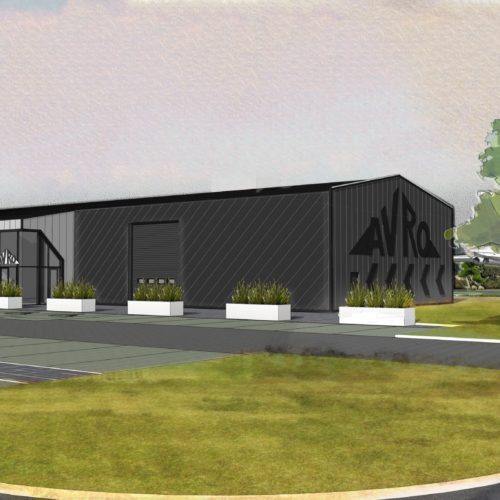 BACK TO ALL NEWS
Aviation Scheme ready for take off!
BAE Systems and the Avro Heritage Trust have appointed Cassidy + Ashton and Conlon Construction to design and build a new Heritage Museum at the former Woodford Aerodrome site.
The scheme will see the two Preston-based firms, both of which have extensive heritage construction experience, establish a purpose-built museum at Woodford which will house Avro Heritage Trust's extensive catalogue of aviation history documents and exhibits.
The seven-figure project involves the conversion of an existing aerodrome fire station to provide an engaging and exciting visitor experience and will offer a fitting backdrop for the Trust's prized exhibit, a full-sized Vulcan bomber.
The design by C+A have re-invented the building as a simple, contemporary structure with directional dark cladding, providing subtle tonal changes to the external appearance of the facades.
Internally, the exhibition hall and new mezzanine gallery will become the focal point of the building offering maximum flexibility to adapt and change the exhibition area, supporting the Trust to attract more visitors. A cafe at first floor will have prime views of the Vulcan whilst archive, reading and classrooms will be available for school visits and those wanting to learn more about the rich history of Avro and the development of many iconic aircraft.
Tim Wallis, project manager from BAE systems said: "BAE Systems have significantly committed to funding a new museum on the site for the Avro Heritage Trust in recognition of Woodford's outstanding commitment to aircraft development. The gesture will ensure that the thousands of artefacts collected by the Trust are displayed permanently on site, preserving Woodford's historic links with British aviation history.
"Both Cassidy + Ashton and Conlon Construction impressed us with their passion and attention to detail and we're looking forward to this project coming to fruition."
Chris Taylor, director at Cassidy + Ashton, added: "Our brief from the Trust was to provide an accessible experience for all the community and our design has been conceived to offer a building that will appeal to aviation enthusiasts and non-experts alike, while providing a neutral back drop that will not distract the eye from the exhibits."