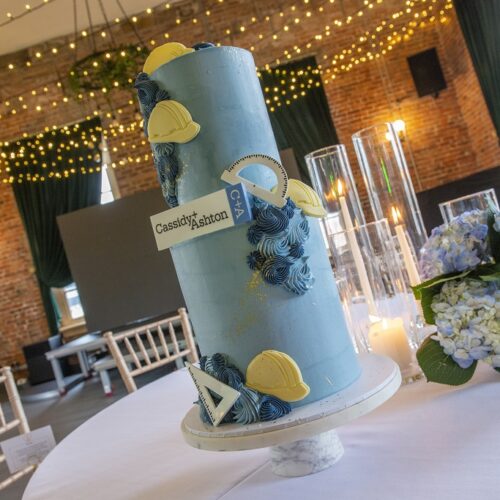 BACK TO ALL NEWS
Cassidy + Ashton celebrates 60th anniversary with clients, colleagues, friends and partners
Over 150 guests joined the Cassidy + Ashton team on Friday May 6, 2022, to celebrate the practice's 60th year in business.
The practice's 60th birthday was in 2020 but it was unable to honour the event in person due to lockdown restrictions, so the belated birthday was dubbed the Cassidy + Ashton '60+2' event.
The event was held at the historic and beautiful Ivory Tower venue in the heart of Preston, the city where the practice was founded in 1960 by Gerald Cassidy and Bernard Ashton. Bringing together Cassidy + Ashton's teams from Preston, Chester, Mold and London, guests included clients, professional partners, former partners and local dignitaries, including the Mayor of Preston, Javed Iqbal.
Guests were treated to an informative and inspiring 'through the decades' presentation by Cassidy + Ashton director, Alban Cassidy (son of Gerald), and chairman, Alistair Baines, who talked passionately about the practice's journey since 1960.
Gerald Cassidy left his role as an architect and a planner at the Lancashire County Council planning department to go into private practice on his own but soon found he needed more hands as there was too much work to do.
He asked David Bennett to join him and later Bernard Ashton, and Cassidy + Ashton was born in 1960.
Notable Cassidy + Ashton projects were shared including the practice's design of Chaplaincy Centre at Lancaster University (which inspired the University's logo design). Other project highlights included Cassidy + Ashton's work on the refurbishment of the iconic Grade II listed Preston Bus Station which won three categories at the RIBA 2019 awards, and a Royal Town Planning Institute (RTPI) award.
Former senior partner, David Bennett, and chairman, Michael Hartley, supported Alistair in collating the historical content with David giving a personal speech on the night. Funds were also raised for St Catherine's Hospice through a prize raffle.
Speaking about the anniversary, Alistair Baines said: "It was a hugely emotional and positive night and it was wonderful to bring the current team and former partners together with our clients and professional partners to celebrate.
"When collating the presentation, it reaffirmed just how much we have achieved as a firm, and the impact we have had on people. This really sums up our philosophy at Cassidy + Ashton. Ever since day one we have looked beyond the buildings to work with our clients to make a real difference to communities and lives.
"I've had so many positive comments from guests and team members too, who also remarked that they felt they belonged to something special."
Alban Cassidy added: "The 60th event made me immensely proud. Proud that what my father started was still a vibrant business 60 years later. Proud that the ethos and culture that he applied at the start is still apparent today and proud that I have been able to be a small part of the Cassidy + Ashton story, which I hope will go on for another 60 years and more."
Alistair concluded: "The event is not just about looking back but looking to the future too. We have a hugely talented group of people, loyal clients, trusted partners and commitment to make a difference. It's a strong foundation for the future."