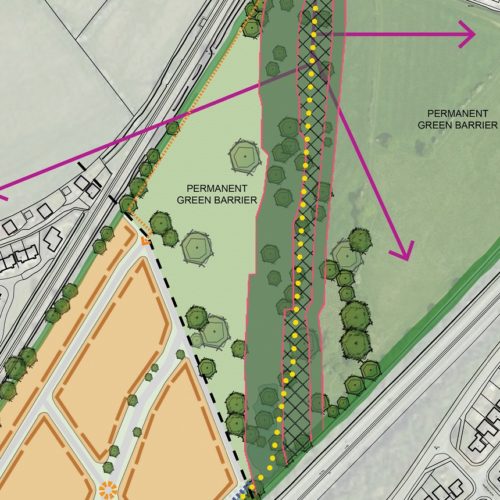 BACK TO ALL NEWS
Cassidy + Ashton planning wins will boost economy by over £100m
The Chester office of North West architectural, building surveying and planning practice, Cassidy + Ashton, has achieved success with two recent planning appeal wins in North Wales. Combined, the wins will boost the local economy in Wrexham by over £100m.
The firm's effective appeal strategy secured approval for a housing development of 189 new homes in Rhosrobin, Wrexham and an increase in production at the Maelor Foods poultry processing plant at Cross Lanes, Wrexham.
The housing plan will help to address the shortfall in new homes, with a quarter of the 189 proposed houses classed as affordable. The site is situated east of Tan y Bont, off Llay New Road, Rhosrobin and is expected to include a mixture of two, three, four and five-bedroom homes.
Work on the new homes is expected to start in 2020/21 and will take around five years to complete.
The Welsh Government housing minister, Julie James, backed the appeal by Liberty Properties, which highlighted the lack of new houses being built locally. The appeal heard that fewer than half of the 517 new houses a year outlined in Wrexham's emerging Local Development Plan had been achieved in the last five years.
The expansion at Maelor Foods' processing plant will lead to a minimum of 80 new jobs and an estimated £101m boost to the local economy. The approval facilitates an increase in production more than two-fold to meet growing demand in the UK poultry market and endorses the principles of Farm to Fork traceability.
The Maelor Foods poultry processing plant, which is shortlisted as a finalist for the Processor of the Year at the 2019 National Egg and Poultry Awards, opened in 2017 on the former First Milk site following an investment of more than £20m. It was backed with a £3.15m grant from the Welsh Government's Food Business Investment Scheme.
After the initial planning applications for both projects were rejected by the local council, the Cassidy + Ashton team reviewed the objections and drew up a detailed plan to address the concerns of the council and residents. The team highlighted the socio-economic benefits such as new jobs, training opportunities for young people and additional spending in the local economy.
Guy Evans, Director of Planning at Cassidy + Ashton said: "At first glance these appear to be two very different cases, however, we adopted the same approach to gain approval for both applications. We provided professional advice and a range of creative solutions to mitigate the original concerns, which were clearly communicated to all the relevant parties.
"To our knowledge, the housing approval is a landmark decision, following a major change to Welsh national planning guidance last year. These approvals represent a real future benefit for Wrexham's economy and we're proud to help enable such a positive impact."