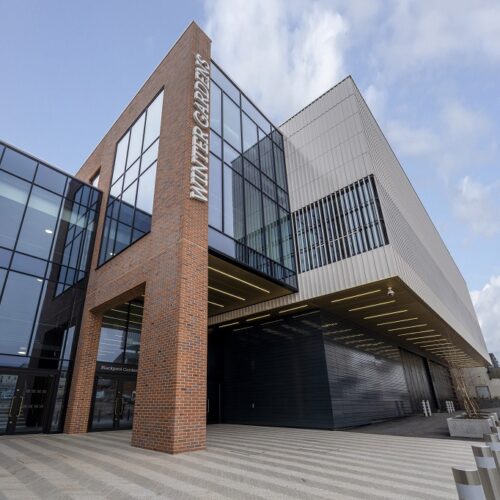 BACK TO ALL NEWS
Cassidy + Ashton plays key role in Winter Gardens new £30m conference and exhibition centre
Cassidy + Ashton's architectural technologists have made a major contribution to help bring construction to completion at Blackpool Winter Garden's new £30m conference and exhibition centre.
Our Preston-based technical team was appointed to the conference centre project towards the end of 2019, after initial construction of the centre's foundations and steel frame were completed, to assist the contractors with various technical challenges relating to the next stage of construction.
Designed by London-based architects Bisset Adams, Winter Garden's new modern glazed-fronted Conference and Exhibition Centre was completed in February 2022 and holds a capacity of over 2,000 people.
Coupled with its adjoining Opera House and Empress Ballroom, Blackpool Winter Gardens is now one of the largest hospitality venues of its kind in the North of England. The Conservative Party will be holding its 2022 Spring Conference at the new venue in March 2022.
Working alongside Bisset Adams, Cassidy + Ashton's architectural technologists developed technical drawings and specifications to evolve the initial design concepts while also providing onsite technical expertise. Their expertise helped bridge the technical gap between the centre's architects and contractors.
As the project ensued throughout the pandemic and during strict lockdowns, Cassidy + Ashton's team also represented Bisset Adams onsite in Blackpool, attending site meetings, inspecting works and dealing with construction issues.
The team also worked closely with the Local Authority Conservation Planning Officer to manage the complex technical details where Winter Gardens new Conference and Exhibition Centre links to its Opera House and Empress Ballroom which are both Listed buildings.
Lawrence McBurney, architect and director at Cassidy + Ashton said: "The new conference centre is more evidence of Blackpool's positive regeneration story and this investment will have a number of economic and social benefits. The news that the Conservative Party is using the new Winter Gardens for its Spring conference highlights its attraction as a national venue and its brilliant news for the Blackpool place brand.
Lee Frudd, Head of Strategic Leisure Assets at Blackpool Council said: "Cassidy + Ashton provided expert technical design input into the Blackpool Conference Centre project, contributing significantly to the delivery of the new facility."
Lawrence added: "I am incredibly proud of the valuable contribution our architectural technologists have made on this project. Often considered as technical specialists 'behind the scenes' they have worked consistently and professionally throughout this challenging project to bring it to fruition. The finished building looks fantastic."
The completion of the £30m new Conference and Exhibition Centre is part of an ongoing investment in the venues at Blackpool Winter Gardens since Blackpool Council bought the Grade II listed buildings in 2010.