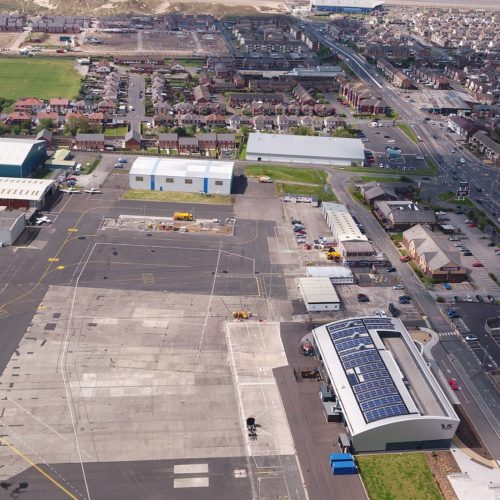 BACK TO ALL NEWS
Team scoops Blackpool Airport Enterprise Zone commission
Cassidy + Ashton has been contracted by Blackpool Airport Enterprise Zone as architectural consultant to undertake a feasibility study for the provision of new hangar space and ancillary accommodation at Blackpool Airport.
The appointment, made by Blackpool Council, will see our team carry out a series of studies and design work to help take the Blackpool Airport Enterprise Zone to its next stage.
Working alongside the airport team and airport occupiers, we will produce feasibility studies and concept designs that examine options for new and replacement hangars and locations for new aircraft parking aprons. The team will also explore the proposed relocation of the airport's operational facilities.
The feasibility studies and concept designs are required to be submitted to Blackpool Council by the end of May 2020.
Lawrence McBurney, architect and director at Cassidy + Ashton said: "We have been working with the airport's owner, Blackpool Council, on the Phase 1 development since 2018 and are delighted to have been appointed to the framework agreement. Our A+ team looks forward to working with the council and stakeholders on this next stage of the Enterprise Zone development at Blackpool airport.
"Feasibility studies are a critical phase of any redevelopment project and we recognise the important role we will play to help shape the future of the airport and Enterprise Zone.
Cllr Gillian Campbell, Deputy Leader of Blackpool Council and Chair of Blackpool Airport said, "The appointment of Cassidy + Ashton brings us a step closer towards seeing next generation development on site. The studies undertaken will help to inform the airport team in decision making and prioritisation of potential future development at the airport.
"The airport is in urgent need of regeneration and it is important that we get it right from the outset, support existing businesses, build a strong sustainable future in aviation and create long term, skilled jobs for the local community."
The initial phase of study and design work to be carried out by Cassidy + Ashton will build on the master-planning work previously undertaken in 2018.
Blackpool Council reacquired Blackpool Airport in September 2017 from Balfour Beatty via its ownership of Blackpool Airport Operations Ltd and Blackpool Airport Property Ltd, to secure its long- term future as part of the Blackpool Airport Enterprise Zone.