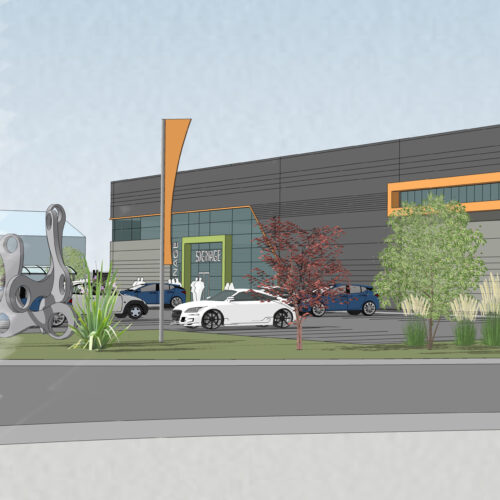 BACK TO ALL NEWS
Cassidy + Ashton sets precedent for design at Blackpool Airport Enterprise Zone
Our team has completed the design of the first building planned for the eastern gateway of the £28.8m Blackpool Airport Enterprise Zone.
The commercial building, designed by architects from our Preston office, will become the new headquarters for Multi-Ply Components, a world-leading specialist in the design and manufacture of carbon fibre composite components.
The custom-designed building earmarks the start of Phase One for the Enterprise Zone's development of land at the eastern gateway. It also represents a significant move forward with regeneration plans for the area, providing a catalyst for future private sector development and further investment over the next few years.
Lawrence McBurney, director and architect at Cassidy + Ashton, said: "This is a really important commercial building. Being the first to be constructed at the eastern gateway site of the Enterprise Zone, we were keen to ensure the building afforded a very attractive outlook, that is designed and then constructed to a very high specification.
"Our aspiration is the building will set a precedent for creative and innovative building designs, the use of high-quality materials and sustainable design for future buildings at the eastern gateway site.
"We've paid particular attention to the landscaping and open welcoming site exterior to the building. Therefore, as a functional landmark, Multi-Ply Components' head office will also help attract prospective tenants of the same calibre to the eastern gateway site."
Cassidy + Ashton's design for Multi-Ply Components new head office also meets the sustainability requirements set out for the Blackpool Airport Enterprise Zone and BREEAM, a leading sustainability assessment method for masterplanning projects, infrastructure and new buildings.
Blackpool Council has approved the design and construction of the 40,000 sq ft commercial unit. Construction is already underway on site with completion expected by Autumn 2021.