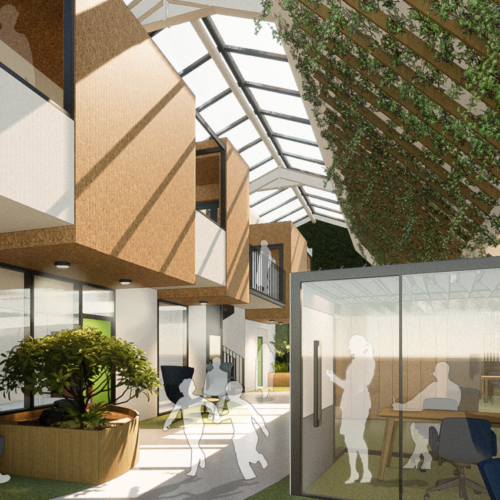 BACK TO ALL NEWS
Green light for Runcorn's green £1.8m Health and Education Hub
Halton Borough Council has been awarded £1.8m of funding for the refurbishment of a town centre building to provide a new multi-agency Health and Education Hub in the heart of Runcorn.
The proposed refurbishment design, prepared on behalf of the council by Cassidy + Ashton, outlines the transformation of the town's library on Granville Street into a hub to provide community-based clinics, education and training.
The design, based around an 'internal garden', intends to bring calm and wellbeing to visitors, who will benefit from a more central location. Halton Borough Council was awarded the funds from the government's Towns Fund.
The hub's objective to deliver both health and education is an initiative developed in partnership with local health and education providers, led by Warrington and Halton Teaching Hospitals NHS Foundation Trust. Partners involved include Riverside College, Mersey Care NHS Foundation Trust, Bridgewater Community Healthcare NHS Foundation Trust, and Halton Borough Council.
The town's library will be relocated to The Brindley theatre within the creative quarter of Runcorn as another part of the Town Deal programme led by the council.
The aim of Runcorn Health and Education Hub is not only to improve the health and education prospects of residents, but also to encourage people back to the town centre and increase economic regeneration in the area.
The two-storey split-level renovation and refurbishment of the library building will bring together a mixture of clinical and educational space, with the aim of providing specific services focused on prevention, women and children and long-term conditions. In addition, flexible facilities will support the growth of the future workforce, offering education, training and career advice, aimed primarily at the health and care sectors.
Alongside the two key functions of the building, a central multi-purpose communal space breaks down the stereotypical health hub waiting area.
Adrian Fillingham, chair of the Runcorn Town Deal Board, said: "Having this facility at the heart of the town centre will make it much easier for local people to get the information, services and support they need to stay active and healthy.
"This is a really exciting and innovative scheme, which alongside the other Reconnecting Runcorn projects will make a real difference to people's lives and drive the transformation of Runcorn town centre in the years to come."
Lucy Gardner, director of strategy and partnerships at Warrington and Halton Teaching Hospitals NHS Foundation Trust, said: "Delivering care closer to our communities is an important aim for our Trust. Through working in partnership, we will be able to provide key health services closer to our patients, helping to address health inequalities and improve health outcomes for our residents, whilst supporting the regeneration of Runcorn town centre."
Cassidy + Ashton's interior design includes a mixture of greenery, live shrubs and natural settings as well as the use of timber and natural materials for the interior walls and furnishings and warm lighting. This overall effect is intended to create a relaxing natural environment that helps promote the health and wellbeing of visitors to the hub.
Architect Dan Thorpe, director of architecture at Cassidy + Ashton's Chester office, said: "The positive impact of nature on people's health and wellbeing is well documented. Working with an existing building, we came upon the concept of a 'garden surgery' right from the outset of the project and it formed part of our initial explorations into the interior principles for the hub."
Riverside College principal, Mary Murphy, said: "We are delighted to be part of the new Health and Education Hub in Runcorn, as we feel that it will bring significant benefits to the whole community. By providing access to a range of learning opportunities in one central location, our aim is to work in partnership at the hub to empower residents to develop new skills and capabilities.
"Our hope is this will enable people who access the services offered, to lead happier, healthier and more fulfilled lives, whether through learning to prioritise their wellbeing or by gaining support to access job opportunities and seek more secure, higher skilled employment."
With initial designs that formed the feasibility study now approved, Cassidy + Ashton will proceed to the next stage to develop the 'garden surgery' concepts and provide more detailed designs and drawings of the hub.
It is envisaged that the next stage of design work will be completed by the start of summer, then subject to approval of the final design and drawings, contractors may start onsite in January 2024.
Consultants and partners working alongside Cassidy + Ashton on the project include quantity surveying services from Thornber & Walker, mechanical, electrical and public health advice from KGA UK Ltd and structural and civil engineering support from JPS civil and structural engineers.
Members of the public are invited to attend an information session about the proposals for the new Health and Education Hub, and other Reconnecting Runcorn projects, on Friday, June 9, at The Brindley Theatre from 2pm.