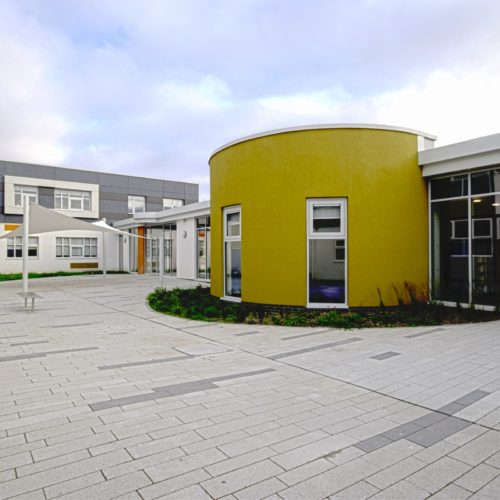 BACK TO ALL NEWS
Leyland School Rises From the Ashes
A 14-month project to re-build St Mary's Catholic High School in Leyland, Lancashire, has completed.
Designed by architectural, building surveying and planning practice, Cassidy + Ashton and built by John Turner Construction, the £7.5m new build and refurbishment project revamped the school which was severely damaged following an arson attack in September 2013.
The 3,500 sq m, multi-phase project, commissioned by the Archdiocese of Liverpool, modernised the previous structure's facilities, providing classrooms, new science and technology departments, a sports hall, extended dining areas, car parks and outdoor space. One of the county's first specialist technology colleges, the school is designed to accommodate 900 pupils.
Lawrence McBurney, associate at Cassidy + Ashton, said: "It's been an honour to be involved in this project and to have got the opportunity to do something positive after such a terrible tragedy."
The fire caused extensive damage and was tackled by upwards of 120 firefighters. The school, which was originally built in the 1950s, was closed for a month following the incident.
Lawrence continued: "Whilst the fire caused much disruption, the incident provided the opportunity to re-design the facilities and make them more suitable for a modern education environment. "We hope the pupils of Leyland St Mary's enjoy their new school and wish them every success with their future endeavours."
John Turner Construction, a member of the Considerate Constructors Scheme (CSS), was praised by the organisation for its performance and community initiatives undertaken during the build programme, which included the installation of a rain water harvesting system and provision of work placements for students from Blackpool and The Fylde College.
John Clarke, managing director at the Preston-based contractor, said: "We take pride in the appearance and quality of our work and the safety and welfare of everyone working in and around our sites and are pleased to have been involved in such a prestigious scheme.
"As a Preston-headquartered business, it's always humbling to build projects on our doorstep and this one at Leyland St Mary's will always be one that we are particularly proud of because we have provided the pupils with a meaningful facility that they can make the most of during their school years."