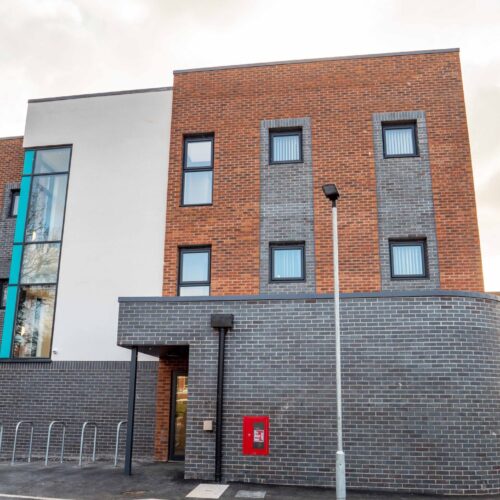 BACK TO ALL NEWS
New £3.1m Flintshire housing scheme offers modern living for over 55s
A £3.1m housing scheme designed by Cassidy + Ashton, that offers accommodation for over 55s, has been completed in Connah's Quay, Flintshire and is ready for occupancy.
Thirty modern apartments have been constructed as part of the regeneration of the derelict Albion Hotel, a brownfield site at Connah's Quay, to meet identified needs for over 55s in the region.
The scheme, operated by ClwydAlyn Housing, has been designed in accordance with the Welsh Government's Design Quality Requirements (DQR), Lifetime Homes Standards and has achieved Secure by Design Gold Standard.
It forms part of ClwydAlyn's large-scale development investment plans across the region to provide a wide-range of affordable housing solutions, addressing the wider issues surrounding a local and national homes shortage.
Contractor Anwyl Partnerships, based in Flintshire, was appointed principal contractors for the scheme, with Chester-based architectural, planning and building surveying practice, Cassidy + Ashton, providing architectural, planning and principal design consultancy services.
The completed scheme offers a mixture of 30 high-quality one and two-bedroom apartments over three storeys, with parking facilities included. Landscaping at the site also incorporates tree planting along neighbouring boundaries.
Craig Sparrow, executive director at ClwydAlyn said: "This is an important development that will benefit the local area for generations to come. Conveniently located close to transport links to Chester, we are delighted to now offer the modern apartments for occupancy."
Tom Anwyl, managing director at Anwyl Partnerships said: "This scheme has been an important project for Anwyl. Our team led the project as principal contractors involved in the acquisition of land, securing planning permission and construction works including demolition of an existing derelict building. The scheme has transformed the unused site into greatly needed homes."
Guy Evans, director at Cassidy + Ashton, said: "Our team is delighted to have been involved from inception to completion on this scheme, and to contribute to the regeneration of a derelict site, to provide high quality contemporary over 55s housing in response to local needs.
"Our design approach for the modern apartments was to include subtle design features in-keeping with existing surroundings, yet complement the neighbouring St Marks Church, which is a listed building."
The development was funded by Welsh Government Social Housing Grant, secured in partnership with Flintshire County Council and by private investment from ClwydAlyn Housing Ltd.