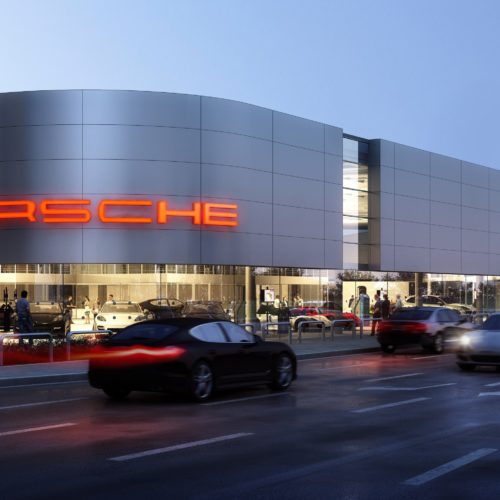 BACK TO ALL NEWS
New Porsche Centre for Preston
Working with the Bowker Motor Group, Cassidy and Ashton are proud to reveal plans to build a new 43,000 sq.ft multi-million pound Porsche Centre in Preston. The location for this prestige car dealership will be on the junction of Watery Lane and Strand Road in Preston.
The building will accommodate a 35-car showroom with a 13-bay workshop. There are also be two customer handover bays, two direct dialogue bays and charging points for electrical vehicles.
Paul Bowker, Bowker Motor Group chief executive, said: "Cassidy and Ashton have produced a stunning design which we hope will give this area of Preston a real lift. We feel a genuine sense of responsibility with Preston Porsche Centre's important gateway location. Thousands of people will pass it every day. So the design needed to be worthy of the location.
"I speak to other business owners in Preston and there's a real sense of optimism backed up by the private and public investment in the retail and leisure sectors. Not to mention improving infrastructure. I'm proud that Bowker Motor Group continues to play its part in a proud future for the city."
Director Lawrence McBurney at C+A said: "These exciting proposals will help to uplift the appearance of the surrounding area and, hopefully, act as a catalyst for further regeneration to this gateway of the City.
"We have already worked with Bowker Motor Group to extend their BMW showroom and more recently, their Motorbike Dealership, so we were delighted to work with them once again on this landmark project. The building shows the very best of modern retail design, whilst showcasing one of the most exciting automotive brands on the planet."
Porsche Cars GB Limited confirmed its decision to appoint Bowker Motor Group to operate its new Lancashire Centre in September 2017. Porsche Centre Preston will become the eleventh member of the Bowker Motor Group portfolio, which includes car and motorcycle dealerships in Blackburn and Preston.