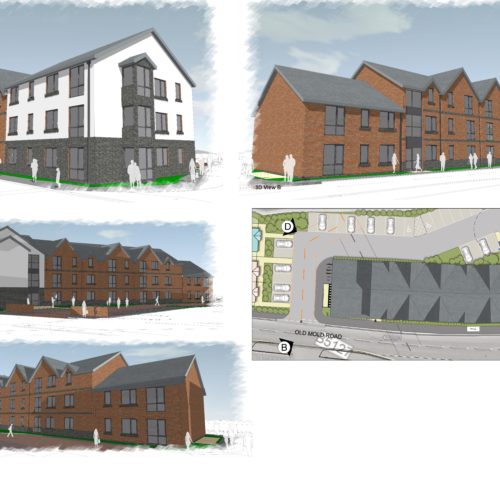 BACK TO ALL NEWS
Planning Secured in Ewloe, Flintshire
Cassidy + Ashton have secured planning permission, on behalf of Anwyl Construction and Pennaf Housing Group, for 28 apartments and 3 houses in Ewloe, Flintshire. The scheme is 100% affordable accommodation and the apartments are limited to over 55's occupation.
The location is the site of the former Boars Head Public House, which has been closed for over 10-years and is in a poor state of repair and is to be demolished. The historical relevance of the public house will be acknowledged in a plaque to be incorporated into the scheme.
The proposed development will meet a proven local need for specialist housing designed to a lifetime homes standard to suit people aged over 55 and be adaptable to their needs now and into the future.
Cassidy + Ashton acted as architects and planning consultants and worked closely with the local planning authority and statutory consultees to achieve what will be a landmark building, designed to both complement and enhance the local area.
Construction is due to commence in Spring 2019.