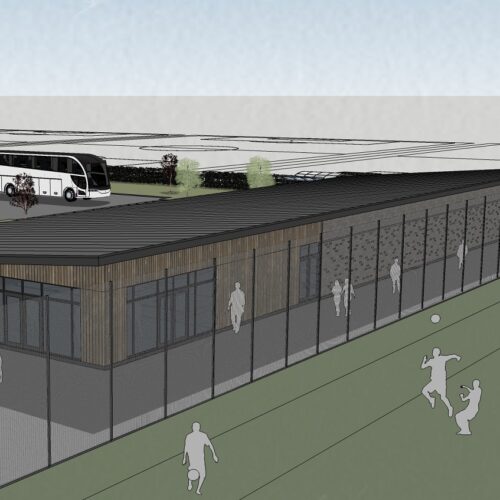 Blackpool Council and Fylde Borough Council have approved proposals for new changing rooms, a new 3G sports pitch, a replacement grass rugby pitch and training area on land off Common Edge Road in Marton, Blackpool.
The proposed new sports facilities, designed by Preston architects Cassidy + Ashton, also include a new changing and spectator pavilion and reconfigured car parking to accommodate 194 cars.
The approved application represents the second phase of planned improvements to the sporting facilities and follows the approval in 2020 for the creation of 12 grass pitches to the south of Division Lane.
The entire sports development scheme will cover approximately 14 hectares and forms part of the first stage of the £28.8m investment allocated for the redevelopment of the 144-hectare Blackpool Airport Enterprise Zone. The appointed contractor Conlon Construction is scheduled to commence work on 19 July, 2021 with support onsite from Cassidy + Ashton.
Cabinet Member for Business, Enterprise and Job Creation Cllr Mark Smith said: "We are delighted that after a lot of hard work behind the scenes, the plans have been passed and we can start building the new changing rooms and spectator pavilion at Common Edge Playing Fields. The new pavilion will be of huge benefit to both the players and supporters, as many can confirm how cold it can get on the touch line!"
Leader of Fylde Council, Karen Buckley, added: "I'm delighted that planning permission has now been granted by both Fylde and Blackpool Councils in time to prepare to host the European Youth Football Championships next year at this new state-of-the-art sports complex.  It's a fantastic opportunity to showcase all that the Fylde Coast has to offer with an annual event that could attract up to 1,000 youth teams from across the UK and Europe."
Lawrence McBurney, director at Cassidy + Ashton, said: "We are proud to have helped design and secure planning approval for these new facilities which will build on the already installed grass sports pitches and provide first class sports provisions for the area.
"This has been the culmination of many months of consultation with stakeholders and statutory consultees and we look forward to helping to manage the construction stage."
Darren Lee, commercial director at Conlon Construction, said: "Gaining planning approval is a major milestone and brings us a step closer to commencing construction of these exceptional facilities. Enterprise Zones are well versed in their ability to deliver positive socio-economic change and it's a delight to be part of a scheme that will bring clear benefits to the local and wider community."
A further planning application is due to be submitted by Cassidy + Ashton for the redevelopment of land north of the Common Edge Road sports facilities for new employment, residential and ancillary uses, as well as associated highways infrastructure.
This supports the overall vision for the Enterprise Zone as set out in the adopted Zone's Masterplan and emerging local planning policy.