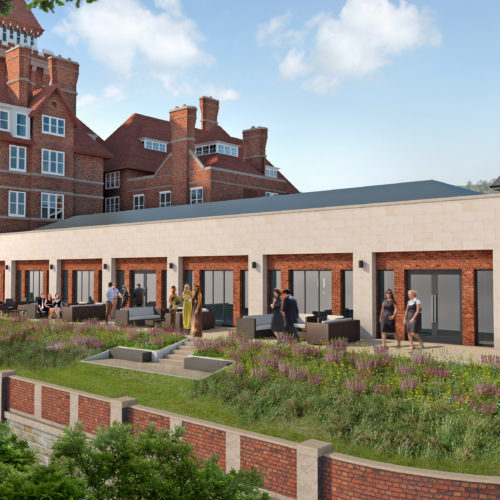 BACK TO ALL NEWS
Plans lodged for Preston City Hotel
Two of the city's biggest architects have collaborated to submit plans for a 154-bed hotel scheme in East Cliff.
The 3.3 acre development, in which Cassidy + Ashton is acting as architects and Frank Whittle Partnership (FWP) as project managers and cost consultants, will restore the former Park Hotel by creating 71 en-suite bedrooms, as well as the addition of a new spa, banqueting pavilion and offices.
First opened in 1882 for rail passengers, the Park Hotel was later converted to offices by Lancashire County Council.
The neighbouring concrete Joint Divisional Offices (JDO) building is to be demolished and replaced with a contemporary extension to the hotel that will create an additional 83 bedrooms across three upper floors. The lower floors will be used as offices and conference facilities and also include a lounge bar and gym for the Park Hotel.
The scheme will complemented by a new 869m2 banqueting pavilion to seat up to 500 guests and overlook Miller Park, complete with kitchen and bar provision.
The planning application also includes change of use at Number 8 East Cliff, a Grade II listed building, from offices to a new spa facility with treatment and relaxation rooms, manicure and pedicure areas and dining.
A deal was struck recently between Lancashire County Pension Fund and Lancashire County Council to transfer the former Park Hotel to the pension fund, which will finance the redevelopment.
Chris Taylor, project architect at Cassidy + Ashton, said: "We've worked with all parties to fine tune the detailed designs and ensure the scheme fits with the city's needs and the demands of visitors and those with commercial interests.
"The development is right on our doorstep and in a conservation area, so not without its challenges, but it's set to create a new tourism asset for the city that will support jobs and the wider economy and enhance Preston's reputation as a great place to visit and do business."
David Robinson, managing partner at FWP, added: "The restoration of one of Preston's most impressive and historic buildings is another sign of the strategic progress the city is making to boost its leisure and tourism offer.
"With the ambitious redevelopment of the Markets Quarter, the revitalisation of the Guild Hall entertainment complex, hotels being planned for the old Post Office building and the Guild Tower, we are seeing Preston significantly up its game.
"This collaboration between Preston's biggest multi-disciplinary architecture and surveying companies is working very well and brings a huge amount of expertise to the project."