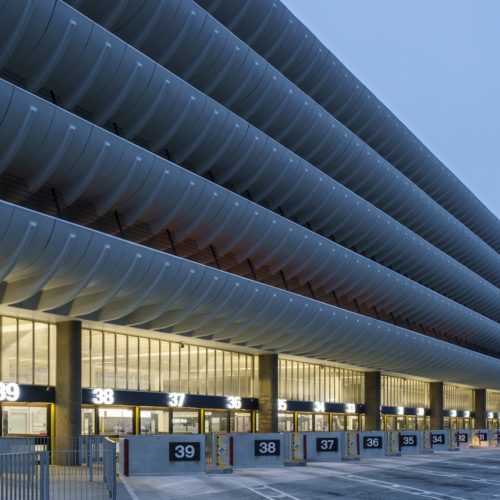 BACK TO ALL NEWS
Preston Bus Station scoops three RIBA awards
Cassidy + Ashton is delighted to announce that our client project to refurbish the iconic Grade II listed Preston Bus Station has won three categories at the Royal Institute of British Architecture (RIBA) 2019 award ceremony.
Working in partnership with London-based John Puttick Associates, the project won the overall regional award, plus the conservation and client awards for the North West.
These esteemed awards recognise the regional importance of specific pieces of architecture, demonstrating outstanding quality and design excellence.
We acted as planning and heritage consultant for the scheme, provided advice and contract management throughout the construction period for the concourse refurbishment, as well as being lead architects for the retail units and car park works.
The Cassidy + Ashton teams were led by directors, Alban Cassidy and Lawrence McBurney.
RIBA North West interim regional director, Tom Mills, said: "The architect's subtle, sophisticated and sustainable response to the conservation of this landmark building has ensured that a key northern transport hub will remain in use for many more years to come."
Alban, who is a Chartered Town Planner and a Chartered Environmentalist, added: "Preston Bus Station is an iconic building of international architectural significance and we are proud that the team's efforts have been recognised by RIBA.
"Working closely with Lancashire County Council, the joint team expertly restored and reworked the
mid-20th century building. It was a careful balancing act to retain the historic fabric of the building with the practical needs of a modern-day transport hub."
About Preston Bus Station
Opened in October 1969, Preston's distinctive bus station was the largest in Europe until it was overtaken by a terminus in Helsinki in 2006.
It was built by Ove Arup and Partners in the Brutalist architectural style between 1968 and 1969, to the design of the architecture company Building Design Partnership.
It was designed to look and feel like an airport with a fully enclosed concourse with service facilities and clearly identified boarding gates.
In 2000 the structure was threatened with demolition until a long-running campaign, backed by Historic England and the Twentieth Century Society, to have the building listed saved it.
Lancashire County Council bought it in 2014 and soon unveiled a £19m redevelopment project to turn it back into a modern transport hub.
London practice John Puttick Associates won an international competition to redevelop the bus station in 2015, with Cassidy + Ashton appointed as planning and heritage consultant for the scheme and lead architects for the retail units and car park works.
The building was officially re-opened in July 2018.
Work started in March 2019 to create a new public square and urban park on the bus station's western apron.
It will feature new seating, lighting and paving and will be the biggest new public space in Preston for many years.