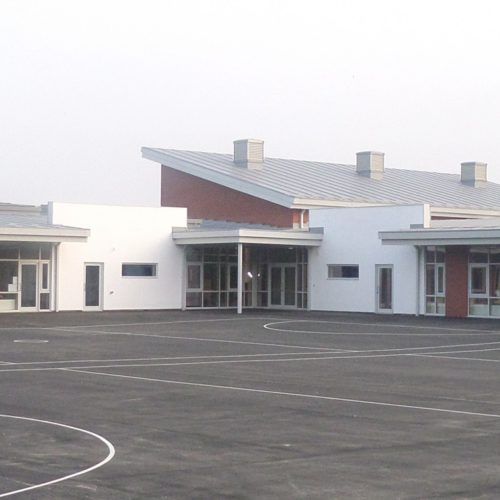 BACK TO ALL NEWS
Redevelopment of Lytham St Annes School Complete
A project designed by Preston-based architecture and planning consultancy, Cassidy + Ashton to expand and redevelop Heyhouses Endowed CofE Primary School, Lytham St Annes, has been completed.
The 16 month, £4.25m project expanded the school from a two-form to three-form entry, increasing capacity from 420 to 630 pupils in order to meet demand.
The former school with infants and juniors on a split site was outdated and unsuited to modern teaching methods within a primary school environment. The project, commissioned by Lancashire County Council and the Diocese of Blackburn, has provided a new school, comprising 15 new classrooms, a main hall and small hall, a kitchen, sports pitches, playground(s) and parking. It has an open plan design for the reception years and resource space, with plenty of natural light and minimal corridors to make maximum use of available space.
Pupils have been in-situ since the start of the Autumn term in September 2014 and external works have recently been completed.
The project also saw Conlon Construction build a 2,281 sq ft nursery school on site which replaces an old prefabricated building and utilises photo-voltaic panels to ensure that it is sustainable and environmentally-friendly.
Mrs Elizabeth Hodgson, headteacher at Heyhouses Endowed CofE Primary School, said: "We are delighted with our new facilities. The children have embraced their new environment, are enjoying the smaller classes and there is a renewed purposeful buzz about the school.
"The project has reinvigorated both pupils and staff and everyone seems to be benefiting from the flexible space we now have."
Lawrence McBurney, associate at Cassidy + Ashton, said: "There is an urgent need for school places nationally and we wanted to ensure that our designs made best use of space available whilst also creating a modern learning environment that inspired pupils and encouraged them to do their best."
Michael Conlon, chairman at Conlon Construction, added: "Whilst it was a challenge to deliver this project adjacent to a live school, it is one we are particularly proud of because it has completely transformed the space."