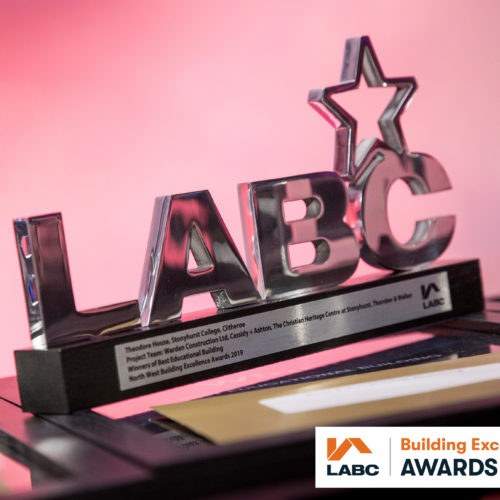 BACK TO ALL NEWS
Cassidy + Ashton helps win respected building award
A prestigious heritage education building designed by Cassidy + Ashton has won a hotly contested regional award.
Theodore House at Stonyhurst College in Clitheroe, Lancashire, beat nine finalists to win the 2019 Best Educational Building built in the North West award, run by the Local Authorities Building Control (LABC) network in England and Wales.
Theodore House now serves as the Christian Heritage Centre at Stonyhurst and was designed by our Preston architecture team, with the project now in the running for the national LABC finals in November 2019.
The project was constructed by Lancashire-based Warden Construction, while Ribble Valley Borough Council was the local authority for planning and building regulations submissions.
The renovated Theodore House includes sleeping accommodation for 30, an oratory, a library, a conference room, study rooms, and a refectory.
The building was created from the ruins of a former Victorian working mill which had served the college until its closure in the middle of the last century. It lay derelict until a new independent charitable trust was formed in 2012 to raise restoration funds.
The Cassidy + Ashton team was led by accredited conservation architect, Michael Hartley, and oversaw the construction, repair and restoration of the building.
Michael said: "The project involved the repair and refurbishment of a Grade II listed corn mill to create the retreat centre.
"The project was very challenging not only in repairing and stabilising the existing structure, but also in successfully creating necessary accommodation within the existing building to provide residential, learning and secular accommodation.
"The team worked extremely well together to give the region an outstanding retreat centre, which is already receiving many enquiries from groups, schools, dioceses and others."
The project team received the award at a dinner in Manchester which was attended by over 600 architects.
The LABC network in England and Wales has 3,500 professionals working in local councils throughout the UK. LABC is dedicated to maintaining high standards of compliance in all building control matters and its awards event is held to celebrate excellent design, specification and skilled construction.