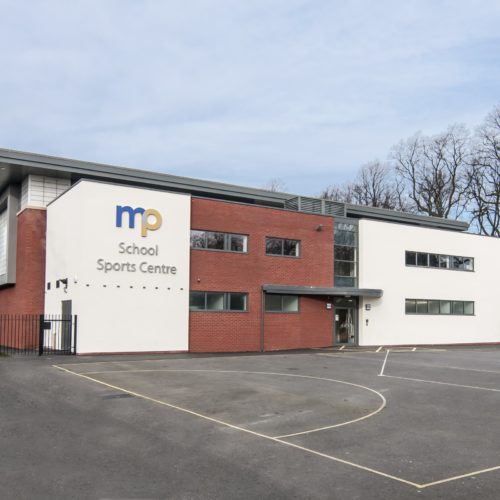 BACK TO OUR WORK LANDING PAGE
Moor Park School Sports Centre
Location: Preston
Client: Moor Park School
Type: New Build | Refurbishment
Value: £1.5m
Status: Completed
Moor Park High School and Sixth Form on Deepdale Road is delivering a sixth form curriculum for the first time in its history and Cassidy + Ashton have designed a building that befits the high quality teaching available and matches its long-term ambitions.
The £2m centre accommodates flexible teaching spaces, group rooms and a science lab, completing the suite of modern sixth form facilities available at the school and bringing together years 12 and 13 for the first time.
Phase one of construction was completed in October 2013, which saw a state-of-the-art sports hall built on the west side of the site and the old gymnasium converted into classrooms and an extended dining room.
Alistair Baines, lead Architect and Director at C+A, said: "This is a monumental project for Moor Park, providing a truly twenty-first century home for the unique learning environment they are aiming to build.
"As the sixth form centre is in a very prominent position on Deepdale Road, it was crucial that our designs reflected the school's educational excellence and ambitious teaching programmes. We are sure the new facilities will accommodate these aims."
The Headteacher Peter Cunningham said, "The strategic vision underpinning our new Sixth Form is rooted in raising aspirations and achievement for our pupils. The modern purpose built design will extend and enhance our facilities by providing excellent sixth form provision that will build on our established outstanding education at Key Stage 3 & 4 to create an exciting new future."
The second phase of development is due for completion June 2014.
Our team
Project architect: Alistair Baines
Project planner: Alban Cassidy