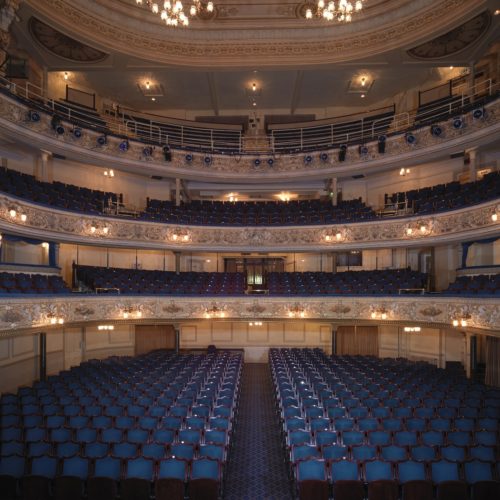 BACK TO ALL NEWS
A Grand Project
Our Preston office has been appointed to help transform facilities at The Grand Theatre Blackpool, an Arts Council backed project valued at £1m.
Building on our existing heritage experience, the plans will involve renovating parts of the Grade II* listed building, including the creation of a multi -function space and open plan offices with a newly formed access off Church Street.
Significantly, the plans focus on improving circulation and accessibility – especially for those with disabilities. This is likely to involve reconfiguring the historic entrance foyer and box office to incorporate wheelchair access to the main theatre.
Alistair Baines, director and chairman of Cassidy + Ashton, said: "The Grand Theatre is one of only a handful of listed buildings in Blackpool so we feel extremely privileged to be involved in helping to renovate and sustain such a prestigious building in the town"
David Coupe, chair of Blackpool Grand Theatre Trust, said, "We are thrilled to be working with Cassidy + Ashton to help us bring our vision for The Grand to reality. Against considerable constraints of time, budget and the difficulties presented by an historic building, they have already demonstrated speed, creativity and pragmatism in equal measure."
The project has been enabled by funds pledged by a number of bodies including Arts Council England, Blackpool Council and the Friends of The Grand.
Alison Clark-Jenkins, Director North, Arts Council England said, 'The Arts Council is very pleased to support organisations, like The Grand, that can make a real difference in towns like Blackpool where opportunities for people to engage in arts and culture are lower than elsewhere.'
John Buck, chairman of the Friends, said, "We saved the beautiful Grand Theatre when it was scheduled for demolition is the 1970's and so we are delighted to be able to contribute significant funding to this development to help it flourish for future generations."
Cllr Simon Blackburn, leader of Blackpool Council, said, "The Grand is one of our great iconic buildings and, despite budget pressures, Blackpool Council recognised this project as a priority to secure the future of the theatre and the huge contribution it makes to the cultural and economic life of the area."
The project should be completed in 2015.