Services
BIM / Revit
NavisWorks
Our Investment
Cassidy + Ashton is a strong advocate for Building Information Modelling (BIM).
BIM is an intelligent 3D model-based process that equips architecture, engineering and construction professionals with the insight and tools to more efficiently plan, design, construct and manage buildings and infrastructure. This collaborative approach with other disciplines  reduces problems typically encountered both on site and during operation, and can significantly reduce pre-construction drawing time.
We use Autodesk© Revit© software to carry out 3D design as part of the BIM design process. Since 2012 we have been successfully using BIM across a wide range of different projects. We have a competent team of technologists, technicians and architects experienced in delivering live projects across various sectors in BIM using Revit and working to BIM Level 2.
BIM Level 2 requires developing building information in a collaborative 3D environment with data attached, but created in separate discipline models (architectural, structural, mechanical and electrical services) with an integrated design team. Whenever appropriate, we encourage our clients to consider developing their project to this advanced standard.  Both our clients, design consultants and ourselves are noticing the benefits since converting across  from the more traditional 2D and 3D modelling programmes typically used previously.
Our experience in BIM has enabled us to be clear about our approach and the benefits that can accrue. We now use Revit as the default software from the early stages of a project. By using comprehensive BIM protocols and a substantial library of elements, our architects and designers are benefitting from the enhanced capabilities of 3D design and the creation of multi-dimensional digital environments supporting a single federated BIM model.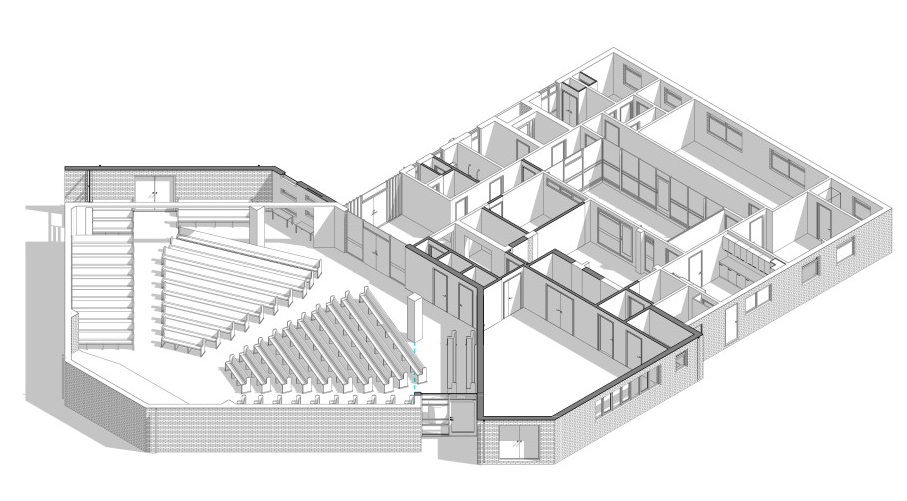 We use Revit Navisworks Simulate to enable us to better navigate buildings and to develop a clearer understanding of how processes fit into the structure and coordinate with the building services. The Revit models are also used to allow stakeholders to 'walk through' the building to gain a greater understanding of spatial relationships. The ability to quickly produce 3D snapshots of any internal space within the building has provided clients with an understanding of the qualities of rooms and key spaces within the building that would not be possible with 2D drawings alone. A major benefit of this has been the level of client feedback that can now be provided.
Our investment to date:
A dedicated BIM Manager
High performance BIM Workstations
In-house CAD / BIM Training & Seminars
Adoption of CAD / BIM Standards (BS1192)
CAD / BIM Auditing / Monitoring
Autodesk Subscription Licensing & Support
Got an enquiry?
Get in touch below and we will get back to you as soon as possible.