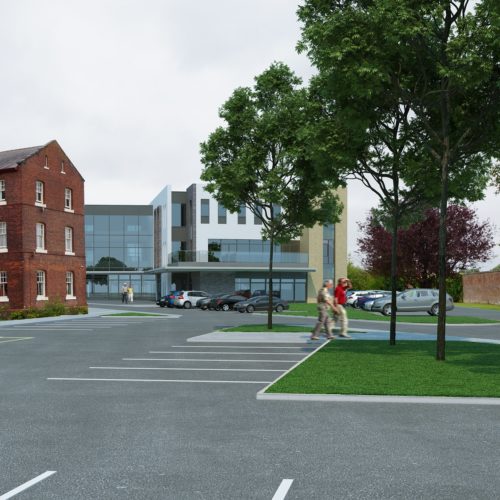 BACK TO ALL NEWS
Plans approved for new healthcare centre in Lancashire
Cassidy + Ashton is delighted to announce that our plans for a new healthcare centre to cater for 25,000 local residents have been given the go ahead by Preston City Council.
The scheme, designed on behalf of HBS Healthcare, will see the five existing GP surgeries of Lytham Road Surgery, Medicom Surgery and 'The Surgery' – consisting of Beech Drive Surgery, Drs Robb and Robb, and Moor Park, combined into a new state-of-the-art healthcare centre.
The much-anticipated facility will be built on the former Little Sisters of the Poor care home on Garstang Road, Fulwood. Currently operating as Springfield Manor Gardens, the existing residential care facility will remain in use.
Plans for the new three-storey building were approved on July 11 and the site will be developed by HBS Healthcare and its construction partner.
Once completed, Fulwood's 25,000 residents will benefit from a surgery, opticians, pharmacy, dentist and café. Under the scheme 220 car parking spaces will also be created, along with 18 disabled spots and 38 cycling spaces. Plans are also in place for an improved entrance and exit in and off Garstang Road, aiding the flow of traffic to the centre.
Cassidy + Ashton's role included design management, co-ordination with other consultants, client liaison and securing planning permission. We are now working on the production of tender/construction drawings and acting as the principal designer.
Chris Taylor, director at Cassidy + Ashton, said: "This fantastic facility will deliver a wide range of vital healthcare services, catering for the needs of patients, both for today and in the future.
"Crucially, the development will significantly improve local residents' access to primary care services, by offering extended opening hours and longer appointments for patients. An added bonus is a predicted reduction in the number of people using A&E and out-of-hours services."
 Work is due to start on the new healthcare centre before the end of the year and the facility is scheduled to open in 2021.