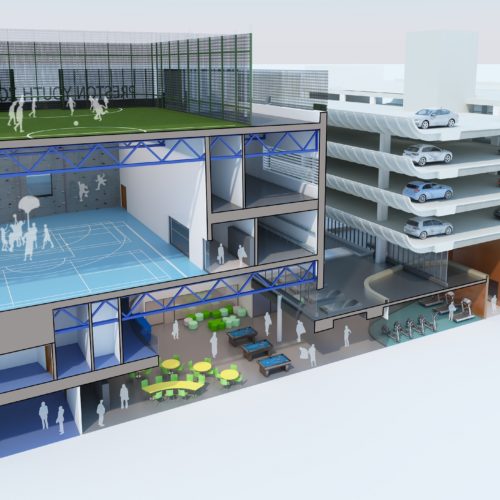 BACK TO ALL NEWS
C+A Revealed as Bus Station Competition Finalist
Cassidy + Ashton, has been revealed as one of the five finalists in the worldwide design competition at Preston Bus Station.
Run by the Royal Institution of British Architects (RIBA) in conjunction with Lancashire County Council, the competition challenged architects to incorporate three elements – a new youth zone, public realm and refurbishment of the existing bus station concourse.
A judging panel comprising leading architects and council representatives chose the overall winner with 10 per cent of the final score accounted for via a public ballot where more than 4,000 people voted. More than 90 entries were received and Cassidy + Ashton ranked just four points behind the winning design, created by a New York-based practice.
Impressed by the passion, commitment and high standard of work, the judging panel praised Cassidy + Ashton's plans, designed by associate architect Lawrence McBurney, for successful configuration of space, integration with the bus station and a good strategy for public realm.
Cassidy + Ashton's philosophy was to create a new flexible 'urban park', maximised by vertically stacking the accommodation. Providing a vibrant energy during the day, the designs also incorporated careful use of lighting at night to enhance the bus station.
Comprising the main youth zone accommodation to the ground floor, a sports hall, basketball court and climbing wall to the middle floor and an outdoor kick pitch at roof level, the scheme optimised natural lighting and colour. Externally, reflective finishes, such as vertical fins and brise-soleil, were utilised to the building's elevations to enhance aesthetics and link the bus station and public realm, together.
Lawrence McBurney, who has worked at the firm since 2000, said: "It was an honour for Cassidy + Ashton to have been shortlisted in the RIBA competition and to have been selected from almost 100 entries is outstanding. "Being in the final five proves that we have the skills and experience to hold our own against national and international architects and even though it's good news that the competition has raised awareness of Preston globally, it's a real shame that a UK-based firm didn't win.
"Whilst it cuts particularly deep because the bus station is less than a mile away from our office, as a local firm we support any regeneration in Preston that will improve the city's appeal and look forward to seeing the project come to fruition." Considered the largest bus station in Europe when it opened in 1969, the site was awarded grade II-listed in 2013.