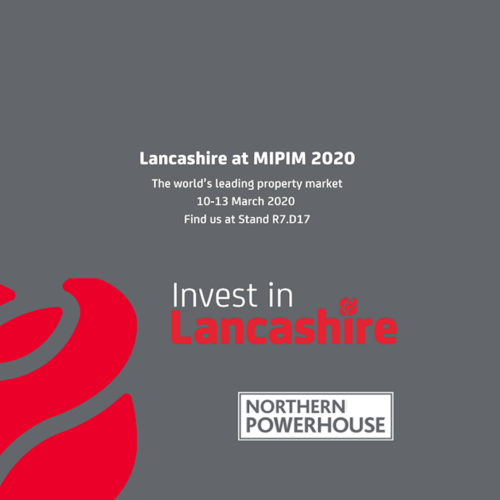 BACK TO ALL NEWS
C+A's Alban to fly Lancashire flag at MIPIM
NEWS UPDATE: MIPIM 2020 was cancelled due to the Covid-19 pandemic. Reed MIDEM, the organiser of MIPIM has announced that the 2020 event has been cancelled. MIPIM 2021 is planned to be held on 16-19 March 2021 in Cannes, France.
Cassidy + Ashton director Alban Cassidy, one of the 26 delegates representing Lancashire, still plans to join the delegation travelling to MIPIM in June.
Alban will join fellow regional property specialists as well as representatives from Preston City Council and Lancashire County Council attending MIPIM, at Palais des Festivals in Cannes.
MIPIM is an annual real estate event that attracts influential players from all sectors of the international property industry for four days of networking, learning and transaction through major events, conferences and dedicated exhibition zones.
The Lancashire delegation is being led by Marketing Lancashire and also represents the Local Enterprise Partnership (LEP). The event provides an opportunity for property specialists from across the county to promote their expertise and skills and bring business to the region. Marketing Lancashire has also arranged a presence (Stand R7.D17) at the exhibition themed 'Invest in Lancashire'. The delegation will also link with Northern Powerhouse partners to showcase the county.
The focus of MIPIM's 2020 event is 'The Future is Human' in recognition that people – humans, need to be at the heart of every strategy. Central to this is discussing how cities respond to their citizens' changing needs and the way people relate to each other.
Conferences will focus on what is the property professional's role and responsibility in order to strengthen social interaction, build communities and develop a sense of belonging, as well as their contribution to supporting an improved quality of urban living for the future.
Alban said: "I'm delighted to be part of the official Lancashire delegation and representing the high calibre of professionals working in the property sector within our region.
"As a proud Lancastrian I'll be showcasing the development opportunities within Lancashire which includes the Blackpool Airport Enterprise Zone, part of Blackpool Council's £100m regeneration programme, and the Eden Project North, an £85m attraction planned for Morecambe Bay, as well as the many exciting regeneration programmes for the county's historical industrial town centres.
"I look forward to also promoting our role in the Blackpool Airport Enterprise Zone as well as the Whyndyke Garden Village on the Fylde coast."
Cassidy + Ashton supports the vision and confidence that local councils, investors and major commercial enterprises have instilled in Lancashire and the resulting property developments planned for the future.
Alban added: "As well as injecting investment into the county and creating opportunities across all sectors, these developments necessitate a huge demand for masterplanning, surveying and architectural design – which are all A+ services that Cassidy + Ashton can deliver. It certainly proves Lancashire is 'a place to do business'."
Alban has made a contribution to Atmosfair to help offset the carbon effects of his air travel to MIPIM. As a practice, Cassidy + Ashton is actively seeking to reduce its carbon footprint across the business.