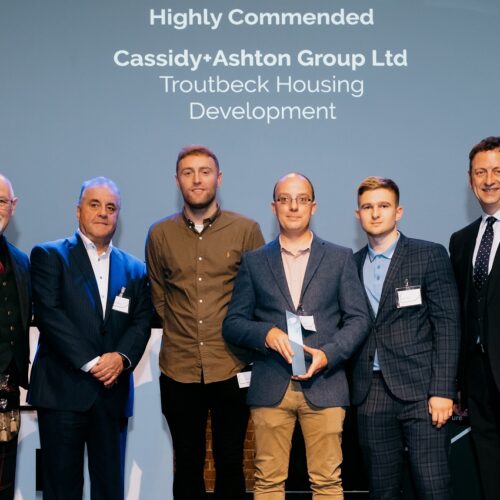 Troutbeck is a £10m+ brand new affordable housing redevelopment in Blackpool. Designed by Cassidy + Ashton, it consists of 75 new social rent residential units, providing a mix of one, two and three bed homes and accessible units along with upgraded public open space. The redevelopment was proposed to address the unpopularity of the existing flats and to improve the condition and quality of the accommodation available for social rent in the borough.
We received the highly commended award for Excellence in Architectural Technology in the large to mega projects category at the CIAT AT 2022 awards, that were held on Friday, October 21, in London.
As lead architects on the Troutbeck development, Cassidy + Ashton co-ordinated all design-related services. Lawrence McBurney, director at Cassidy + Ashton, said: "The hard work of our architectural technologists underpins the design process behind the architectural project.
"The combination of our talented architects and technologists ensures we not only design award-winning buildings and schemes like Troutbeck but provide the detailing and specification that enables them to be built to an exceptional standard."
Celebrating architectural technology at its best, the AT Awards are recognised as the premier accolades, nationally and internationally, that demonstrate outstanding achievement in the discipline.
Assessment is based upon the innovative application of architectural technology against a set criterion for each award. Judges look for robust and functional designs that are constructed economically, are environmentally sustainable, and of durable performance.​
Cassidy + Ashton's award application included providing detailed presentation boards (below) to demonstrate key technical areas of the Troutbeck project covering performance and robustness; buildability and assembly; and innovation and sustainability.
The judges' comments included: "Troutbeck is a residential development in Blackpool using conventional timber frame open panel construction and trussed rafters.
"An exemplary and well-considered use of materials addressing sustainability and performance and inclusive functional and adaptable design with strong technical detailing. Consideration to context and striking aesthetic themes are strong evidence of the technical design and detailing associated with buildability and assembly. A great example of architectural technology in residential design."
Lawrence added: "Congratulations to Ian Riches, the lead architectural technologist on the Troutbeck project, and to the team that supported him."
Pictured above left to right are: CIAT president Kevin Crawford PCIAT; a representative from sponsors McParland Finn; architect Paul Drinnan and architectural technologists Ian Riches and Finlay Woods from Cassidy + Ashton; the CIAT AT awards host Matt Allwright.