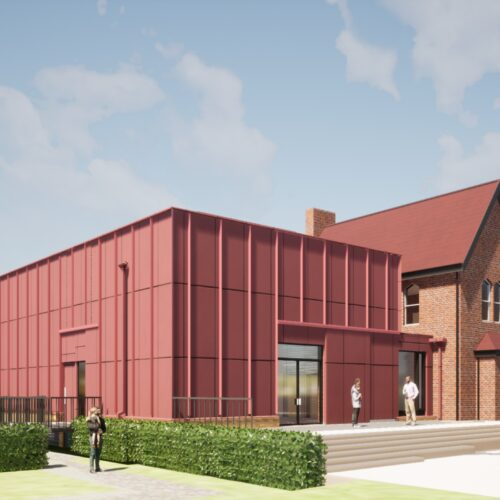 BACK TO ALL NEWS
Cassidy + Ashton lands architect delivery role on £2.5m Ellesmere Port culture project
Cassidy + Ashton has been appointed as the architectural delivery partner on the construction of a new state-of-the-art theatre at Whitby Hall, Ellesmere Port.
The new extension, designed by the Manchester studio of London-based architects Bennetts Associates, whose work includes the award-winning Chester Storyhouse, will provide performance space for Arts Council funded, Action Transport Theatre.
It is part of the extensive refurbishment and remodelling of Whitby Hall, a former Victorian stately home, to create a creative centre specialising in high quality arts and culture for children, young people and their families.
The project is funded through capital investment from Cheshire West and Chester Council, and Arts Council England. Action Transport Theatre was also awarded an £82,476 Capital Kickstart grant towards the new theatre, as part of the government's £1.57 billion Culture Recovery Fund.
In our role as delivery architects, Cassidy + Ashton is to ensure Bennetts Associates' original architectural concepts are delivered, working with appointed contractor, Engie, on the detailed design to deliver the project through to completion.
Cassidy + Ashton director, Lawrence McBurney, is overseeing the works with senior chartered architectural technologist, Ian Riches, working alongside Engie in developing the construction stage.
Clad with large fibre cement panels punctuated by projecting vertical fins, the modern extension will boldly contrast the historic hall. It will cater for a wide variety of uses including participation programmes, live performances, films and live streaming. On completion the auditorium area will have the flexibility to house an audience capacity of 200 for concerts and 150 for seated events.
As a replacement to a mid-1960's extension that had fallen into disrepair and recently demolished, the new auditorium will also house a café, restrooms and ancillary spaces. Construction of the new timber-framed extension has commenced and is expected to be completed by early 2022. This will be followed by a period of client-led technical fitout.
Work also includes the refurbishment of Whitby Hall to upgrade facilities includes creating space for drama workshops and rehearsal areas plus a lobby, dressing rooms and administrative space.
The Cassidy + Ashton Chester team is also involved in the co-ordination of the full mechanical and electrical refit of the Whitby Hall as part of its refurbishment project.
Ian said: "This project delivers cutting edge innovation in the principles of sustainable design and materials, passive technology and modern methods of construction. The existing extension was not fit for purpose as a theatre and the new design creates an adaptable performance space using sustainable materials and modern methods in insulation and ventilation."
Our team is also working alongside theatrical production specialists, Stage Electrics, and Charcoalblue, which are advising on the theatre's lighting and sound features with acousticians advising on the acoustic treatment of the theatre's interior.
Ian added: "It is a complex building considering its size and shape and design approach. As a Chartered architectural technologist this is an exciting project to be involved in. Our role is to provide a technical interpretation of the architect's initial design and to work closely alongside the contractors to see it through to completion. I look forward to seeing performances in action when the new theatre is in operation."
Nina Hajiyianni, Artistic Director of Action Transport Theatre said: "We are delighted that our ambitious capital programme is finally underway. The new venue will bring a new lease of life to a much-loved historic building and create an incredible new cultural asset for the town. It will also allow us to build on our national reputation as a specialist theatre company for children and young people."