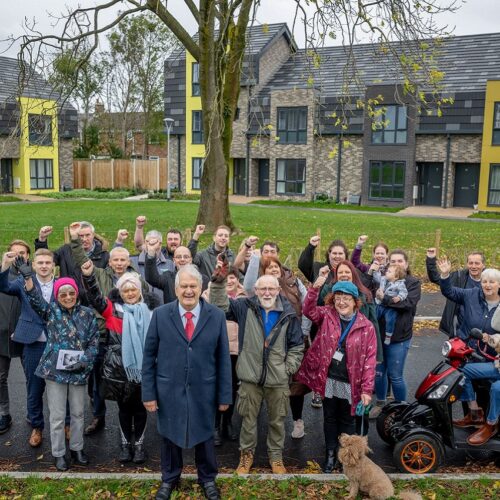 BACK TO ALL NEWS
Cassidy + Ashton marks completion of £10m+ housing redevelopment with Blackpool Council, residents and project partners
The completion of Troutbeck, Blackpool Council's £10m+ affordable housing redevelopment designed by Cassidy + Ashton, was marked at a gathering of residents, council leaders and project partners at Troutbeck's Mereside location in Blackpool.
It marks a significant milestone since initial plans for the redevelopment of Troutbeck Crescent were submitted in March 2019 on behalf of Blackpool Coastal Housing, to replace six three-storey blocks of flats. The redevelopment aimed to address the continuing unpopularity of the existing flats and improve the condition and quality of accommodation available for social rent within the borough.
Now completed, Troutbeck is an attractive, innovative and modern social housing scheme. It comprises 75 affordable, high-quality homes rented to families and individuals. The development also includes accessible living units for residents with mobility and health needs. It is managed on behalf of the Blackpool Council by Blackpool Coastal Housing (BCH).
Delivering architectural and planning services on the project, Cassidy + Ashton's contemporary design offers modern health and wellbeing living space to residents. Its distinctive eye-catching exterior provides a prominent gateway into Blackpool. Our design team worked in partnership with the main contractors Blackpool-based Tyson Construction during the construction stage of the project.
In addition to meeting people's diverse housing needs, the benefits of the Troutbeck development are wide ranging, with Blackpool Council committed to ensuring that the impact of such investments is felt throughout the whole community.
Now complete and fully let, Troutbeck provides better-quality living accommodation, increased areas of public green spaces and improved wellbeing for the whole community. In addition, many local contractors were involved in the construction of the development.
The health and wellbeing of residents was a key consideration in Cassidy + Ashton's design for Troutbeck. Our design included spacious interiors as well as private amenity area for residents, including their own back gardens and individual front doors – giving each household a sense of ownership.
Our objective was also to present a design not resembling traditional social housing. A bold and striking approach was put forward giving Troutbeck its own local identity, plus an attractive public environment with green spaces, landscaped areas and walkways. As part of completing the landscaping, 76 new trees and a wide range of shrubs have been planted.
Lawrence McBurney, director at Cassidy + Ashton said: "Our vision for Troutbeck from the start was to provide modern affordable housing for the residents, as well as an impressive gateway into Blackpool.
"We have an excellent working relationship with Blackpool Council, who were very open to our new ideas and innovative contemporary designs.
One of the features within the Troutbeck development design is that we made provision for adapted and accessible homes specifically designed to enable easier and independent living for residents with mobility and health needs – including wheelchair access and bespoke enhancements to suit specific needs.
Resident Richard Ramsbottom moved into Troutbeck last year as he had various medical conditions including MS and needed more suitable accessible accommodation. He said: "My previous accommodation had stairs and with no downstairs toilet and an upstairs bathroom it was a big problem for me to manage day to day.
"I now have an accessible living space on one level which includes a walk-in shower. My carer and friend can also help me as she lives with me in this dormer style unit. This is so much better for me. It's so lovely, it such a nice place to be and has such big windows and I have gardens. I am so pleased to be here; it is a great development."
The Troutbeck project was funded by Blackpool Council but is self-financing through tenant rents and has been supported with grant funding from Homes England under the Shared Ownership and Affordable Homes Programme 2016-21.
Cllr Ivan Taylor, Blackpool Council Deputy Leader with responsibilities for housing, said: "This has been one of many significant investment schemes and projects across the town that are making Blackpool better.
"It's good to know that many residents are enjoying their new homes. This project along with many other ongoing schemes in the town offers people better living accommodation through great vision, design and construction as well as delivering valuable local jobs and skills that sets the standard for current and future developments.
"The Troutbeck development has had real benefits for our local economy by giving local companies contracts and their employees a chance to earn while they learn. Hopefully the experience that both existing and new employees get during their work placements and apprenticeships will encourage them to stay in Blackpool and build a career here."
Lawrence added: "Troutbeck has been a great collaborative project to work on and we are delighted to see this brilliant development reach completion and our vision become reality. A credit to everyone involved."