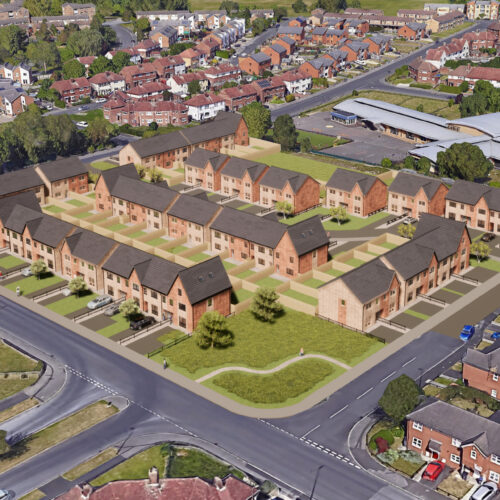 BACK TO ALL NEWS
Cassidy + Ashton planning team submit plans for £20m residential development
Plans have been submitted to Blackpool Council by Cassidy + Ashton's planning team to build 131 new homes on 3.86 hectares of vacant land in Blackpool.
Blackpool Council's £20million development, located at two vacant sites at Grange Park Estate, includes the construction of 96 affordable houses, 5 bungalows and 30 sheltered apartments. A further 30 eco-friendly homes and a new cycle path, partially funded by the European Regional Development Fund, are also proposed for the site.
A sheltered apartment complex with allocated parking and a shared garden space is also included in the plans.
The residential development, designed by Cassidy + Ashton architecture team, will be managed by Blackpool Coastal Housing and forms part of Blackpool Council's 'Grange Park Estate project' which aims to adopt a 'whole place-based approach' to improving community resilience to climate change.
Cassidy + Ashton's proposed design includes a mix of semi-detached and terraced homes and bungalows. The terraced homes will provide a sustainable density but reduce the overall footprint to maintain as much green, open space as possible on the Estate.
As well as housing, the development plans incorporate 'pocket parks' and communal green spaces, and a children's play park. A new cycle path and pedestrian routes through the sites connect to local schools, parks and community facilities.
Claire Parker, chartered town planner at Cassidy + Ashton, said: "This scheme will provide a range of new homes for residents of Blackpool and areas of new green space for their enjoyment.
"The proposals have sought to respond to local demand for a range of new homes, from one-bedroom apartments to six-bedroom homes, to create a mixed and inclusive development."
Careful consideration has been made by Cassidy + Ashton's team to include a range of materials sympathetic to the surrounding homes and robust to stand the test of time. Brick detailing, ginnels and 'bookend terraces' are key features that will help seamlessly integrate the development into the immediate local environment.
The aspiration is to create more sustainable homes through the inclusion of improved energy efficient buildings and the introduction of sustainable technologies such as using air source heat pumps.
A Blackpool Council spokesman said: "The main aim of this proposal is to provide a residential development in a manner which both maximises potential to provide new homes, whilst respecting the local surroundings and providing improved green space for use by all residents on the estate.
"Responding to the local demand within the wider context of the climate crisis, the goal is to create a mixed and inclusive community that promotes wellbeing and healthy lifestyles."
Subject to approval of the submitted plans, construction onsite is scheduled to commence by early 2022. Cassidy + Ashton will continue to support the development throughout the construction stage working alongside the successful contractor.
This scheme is partially funded by the European Regional Development Fund