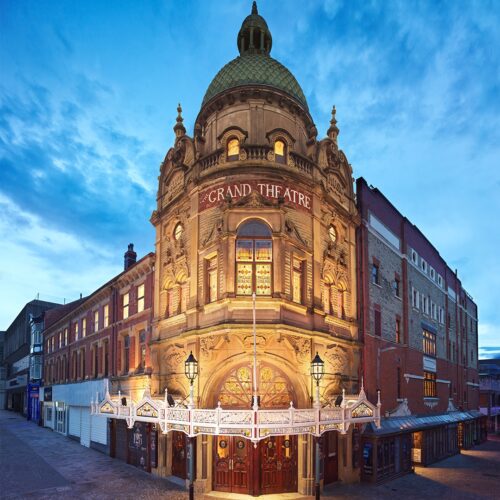 BACK TO ALL NEWS
Cassidy + Ashton provides grand repair solution for Blackpool theatre project
The building surveying division at the Preston office of Cassidy + Ashton has played a lead role in a highly technical project at one of the North's most historic theatres.
As a specialist in heritage and conservation buildings, Cassidy + Ashton helped the custodians of Blackpool Grand Theatre make essential repairs to an historic pediment, located on the top of the building on its West façade.
Damage had occurred to the pediment due the Theatre's façade being exposed to coastal winds and was found to be leaning outwards to Corporation Street, potentially at risk of falling off. Secure strapping had been installed as a temporary measure to help restrain against high winds.
The project involved taking down the existing high-level pediment, dismantling and reconstructing it, replacing metal ties like for like to ensure its structural security.
A grant of £24,250 was secured from Historic England's Heritage At Risk Fund, part of the Cultural Recovery Fund. Cassidy + Ashton performed a contract administrator and project manager role, writing the Heritage At Risk Fund bid while engaging with Blackpool's conservation officer.
Located on Church Street, Blackpool's Grand Theatre is a Grade II* listed touring theatre and arts centre. With a 4-level auditorium and 1,053 seats, the theatre offers an all-year-round programme covering all live art forms.
Blackpool Grand Theatre is known as 'a masterpiece' after being designed by renowned architect Frank Matcham in 1894. He designed or significantly reconstructed over 160 theatres within the UK and is Britain's most prolific theatre architect.
Cassidy + Ashton's team was led by Jennifer Piper, a chartered building surveyor: "Working on properties like this brings such fulfilment. I used to go to this Theatre with my grandparents and the experience of this building for the first time inspired me to seek a career in surveying.
"The building's façade is part of its story and the whole team is delighted we have been able to retain its character while enabling it to be visited safety by many generations to come."
Colin Johnston, Deputy Chief Executive at Blackpool Grand Theatre, said: "This was an important project as had we not been able to repair the pediment, we wouldn't have been able to reopen after the pandemic.
"From a historical point of view, this is such an important building as it's one of Frank Matcham's few surviving theatres. It can be a juggle between preserving our history and making the building future proof. We have taken great satisfaction that we have managed to complete the repairs employing the same standards of craftsmanship and materials as those used by the Victorians."
Photo courtesy of Sean Conboy Architectural & Commercial Photography