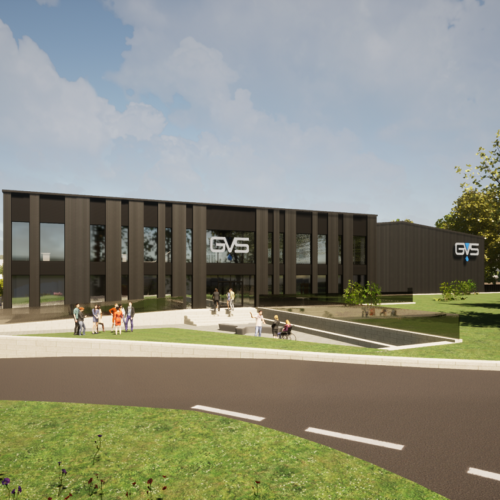 BACK TO ALL NEWS
Cassidy + Ashton secures approval for global manufacturer's low carbon UK headquarters
Cassidy + Ashton has secured planning permission to create a new £10m UK office and manufacturing facility in Lancaster for GVS Filter Technology UK Ltd.
The approved plans seek to redevelop a vacant site on Caton Road, formerly used by paper producer Sofidel. The purchased site boasts a prominent riverside frontage where GVS aims to create an eye-catching complex to promote its global brand and reflect its Italian roots.
GVS also has ambitions to be carbon neutral at the new location with the development to include the use of renewable energy, sustainable water drainage and heat transfer management systems.
Founded in 1979 in Bologna, Italy, GVS has evolved from a supplier of components for the healthcare sector to a global group that produces highly technical filtration solutions for many sectors.
Its current UK office in Morecambe opened in 1995 and employs over 190 people. All employees will be relocated to the new site. As an established manufacturer of medical products and personal protective equipment, including facemasks, during the COVID-19 pandemic, GVS played a major role in the manufacture and provision of protective face masks of the highest classification to the NHS.
Cassidy + Ashton won the tender for the project through its bold concepts for the building's office space, coupled with its thoughtful approach to sustainability and carbon reduction.
Its proposals include refurbishing an existing 2,000 square metre storage warehouse to act as GVS' production facilities, including its injection moulding processes and high-tech filter manufacturing which is carried out under 'clean room' standards. The remainder of the space will be occupied with warehousing and storage.
The finishing touch to the complex is a striking two-storey building that will serve as reception and office and administration area with its frontage on Caton Road, a gateway to Lancaster's city centre.
Cassidy + Ashton is providing architectural and planning consultancy services to GVS on the project, which includes managing the tender process to appoint contractors. Its technical design team will then provide project management services onsite until completion.
Alistair Baines, chairman of Cassidy + Ashton said: "We're committed to working with our client partners to design and create buildings that contribute to a more sustainable world. Our plans for GVS' new commercial facility reflect a conscious decision by the company to ensure they are taking the right measures towards being carbon neutral."
Focussing on the use of renewable energy, Cassidy + Ashton's proposed design includes installing solar panels on the roof of the warehouse and operations facilities, while heat pumps will transfer heat created during production processes to warm the office areas.
The new headquarters also includes a sustainable drainage system with surface water redirected via grassed swales integrated into the car park, to a landscaped wildlife pond, before the water is released into the River Lune.
Alistair added: "In relocating their UK operations, GVS seeks to make a real mark in Lancaster on a prominent site alongside the River Lune. GVS is committed to providing a long-term sustainable facility to align with the company's carbon net zero aspirations. Cassidy + Ashton looks forward to supporting them to achieve this."
Ben Hartropp, head of engineering at GVS Filter Technology UK said: "The GVS team are excited about the chance to bring all our business functions together under one roof."
Cassidy + Ashton is currently preparing the detailed drawings for the new facilities with the project expected to go out to tender for contractors in Autumn 2023. Work is due to commence onsite in January 2024 with a view of completing by Spring 2025.