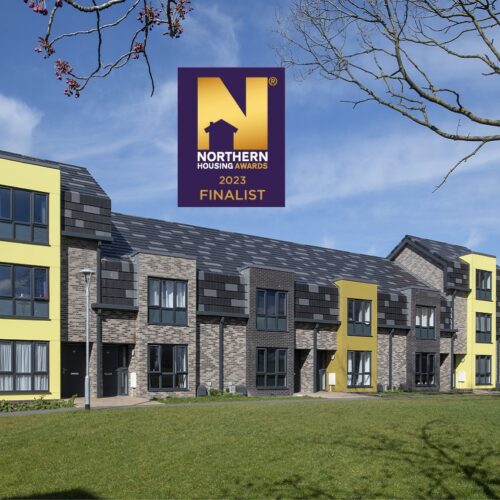 BACK TO ALL NEWS
Cassidy + Ashton shortlisted in Northern Housing Awards for role in £10m Blackpool project
Cassidy + Ashton has been shortlisted in the 2023 Northern Housing Awards for its role as lead architect in Blackpool Council's £10m Troutbeck Crescent Redevelopment.
Designed by Cassidy + Ashton, Troutbeck Crescent is one of the eight finalists in the award's 'Best Development for Social-Affordable Rent' category.
Located near a major junction to the M55 motorway at Blackpool, Blackpool Council sought to transform the Troubeck Crescent 2.3 hectare social housing site to provide new well-designed homes with better space standards and lower running costs, all within an attractive integrated environment that also creates an inviting gateway into the popular seaside town.
The redevelopment involved replacing six three-storey outdated housing blocks with contemporary, affordable, high quality social housing. Completed in the summer of 2022, the new 75 modern units provide rental properties to families and individuals and includes several accessible living units.
The scheme was supported with grant funding from Homes England and was managed by Blackpool Housing Company. The housing provider was Blackpool Coastal Housing.
Our architect and design team in Preston was appointed by the Blackpool Council as the lead architect on the project. We co-ordinated all the design services for Troutbeck from initial design concepts through to overseeing completion onsite.
Led by director and chartered architect Lawrence McBurney, our team's creative design for Troutbeck steered away from resembling traditional social housing. Its bold and striking approach has given Troutbeck a unique local identity and provides an attractive public environment with green spaces, landscaped areas and paved walkways.
Lawrence said: "From the very outset, I envisaged Troutbeck to be an award-winning project. We are delighted to be shortlisted in the Northern Housing Awards and to have this social housing scheme recognised by the judges for its unique design and how it has improved the quality of life for its residents."
The health and wellbeing of residents was a key consideration in our design for Troutbeck. Spacious interiors, private amenity areas for residents, including their own back gardens and individual front doors, all help to give each household a sense of ownership.
And, as part of completing the landscaping, 76 trees and a wide range of shrubs were planted.
Cassidy + Ashton worked alongside contractors Tyson Construction on the scheme. Other partners involved were mechanical and electrical engineering consultant, Kingswood; structural and civil engineers, Hermolle Associates and principal designers, Aegis Services Ltd. Many local contractors were also involved in the construction of the scheme.
Lawrence added: "Troutbeck has been a great collaborative project to work on and everyone involved is delighted to see this brilliant development reach completion and the vision become reality. It has really transformed the quality of life for the residents as well as the local community. A credit to everyone involved."
The Northern Housing Awards was established in 2018 and celebrates innovative affordable housing providers, projects and services in the North that help to create great communities where people genuinely love to live.
The award winners will be announced on Tuesday May 2, 2023 at a dinner gala and awards ceremony at The Point, Emirates Old Trafford in Manchester.