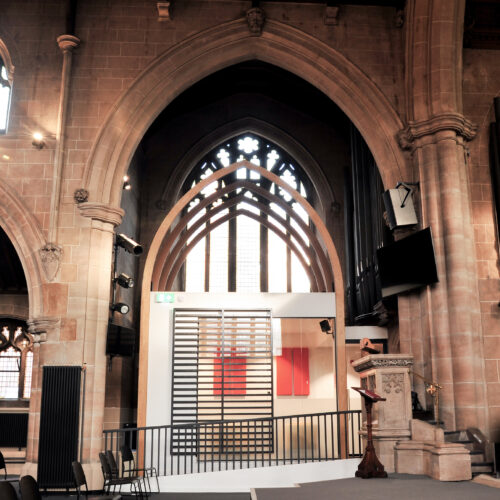 BACK TO ALL NEWS
Cassidy + Ashton's refit begins a new chapter for prominent Liverpool church
A prominent church in the heart of Liverpool has benefitted from a £500,000 internal refit designed by Cassidy + Ashton and funded by The Church of England as part of its city centre resource initiative.
St Barnabas Church on Penny Lane in Liverpool was earmarked by the Liverpool diocese and supported by the Church Revitalisation Trust. It has undergone a major internal refurbishment to make the church space more adaptable and versatile for the local community.
Built in 1914 and fondly known as Penny Lane Church, the church's refit facilitates the congregation's regular contemporary worship with additional performance space available to local musicians including the city's university students.
It includes an interior 'meeting pod' used as an additional meeting space and a recording studio with a digital sound desk and an extensive audio-visual installation.
The refit also involved reinstating the main entrance and creating a new kitchen and servery area and additional rest rooms.
Appointed as the architect and principal designer for the project, Cassidy + Ashton designed the interior refit and prepared the planning application to improve access to the building.
Cassidy + Ashton's Dan Thorpe, project architect on the St Barnabas refit, has extensive experience working with Liverpool Diocese and organisations such as The Church Revitalisation Trust. He designed the refit of the Preston Minster in Lancashire and is working on several similar projects in Liverpool and Blackpool.
Dan said: "The Church of England is committed to finding and targeting suitable large old city centre churches and making them fit for purpose for the twenty first century. We have a long-standing working relationship with the Diocese providing specialist experience in conservation work.
"When working on such refurbishments, we recognise the importance of respecting the traditional values of the church and what is required to meet both the requirements of its practising congregation as well as making the church more purposeful to the wider community."
The Diocese project manager, Terry Burke said: "The refurbishment of the building, along with new lighting and heating now provides a fantastic facility for the Church, and with the adjacent manse used for offices and their Children and Youth programme, the Diocese is excited about the support now accessible to the local community."
Dan added: "We greatly value the role we play in creating safe, welcoming community spaces in much needed inner-city areas such as Liverpool. This particular project meets the needs of the community in many different ways by making church space more adaptable and versatile for the local community."
As architects on the project, Cassidy + Ashton worked alongside the main contractor Parkinson Builders (Preston), surveyors Thornber & Walker and mechanical and electrical engineers JRBE, as well as several local tradesmen to complete the refurbishment.