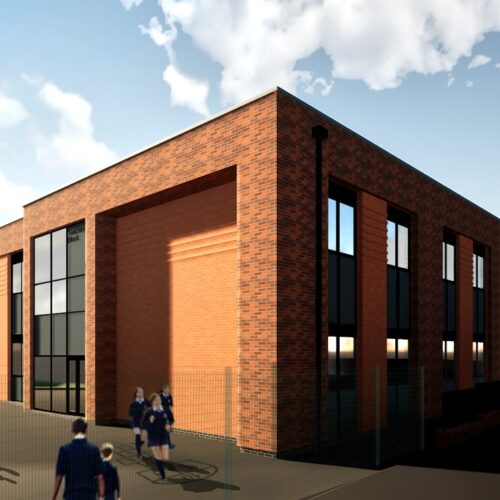 BACK TO ALL NEWS
Expansion plans approved for outstanding SEND Bolton school
A full planning application submitted by Cassidy + Ashton, outlining expansion plans at Rumworth School, has been approved by Bolton Council.
Procured through a joint venture partnership between Bolton Council and procurement partner Clear Futures, and delivered by the appointed contractor Eric Wright Construction, the plans seek to increase the capacity of the maintained special school in Bolton which provides education for children aged between 11 and 19 years, who have special educational needs and disabilities (SEND).
The proposed two-storey teaching block will create 14 additional classrooms as well as providing several large rooms for group activities. Proposals also include welfare rooms, extra resource and storage space and hygiene suites on each floor.
Plans for a temporary classroom at the school ahead of the permanent new two-storey teaching block were also approved.
The approved plans will enable the school to increase its capacity by 140 pupils and meet its objectives for expansion. It is expected that additional full-time teachers and part-time teachers will be recruited to meet the needs of the expanding school.
Cassidy + Ashton, is providing planning and design consultancy services for the new facilities. The proposed designs involved extensive and productive engagement with key stakeholders from Rumworth School, Bolton Council and joint venture partner Clear Futures.
Simon Barlow, associate architect at Cassidy + Ashton, said: "By listening to the people that will be using the new building, the shape and layout in our proposed design provides an efficient and accessible 'stacked' combination of teaching and ancillary spaces, while also providing useful learning resource areas for group activities in a connecting wider circular space.
"The design sympathetically complements the existing school development through the building's form, scale and materials."
The design of the new building also seeks to meet carbon reduction targets, with a 10 per cent improvement on reduction above the current statutory requirements, through the installation of air source heat pumps and applying improved thermal performance.
Following successful planning approval, Cassidy + Ashton, alongside Eric Wright Construction and their design team, will complete the technical designs for approval by the council and school. Work is then expected to commence onsite towards the end of 2023 with Eric Wright Construction as the appointed contractor.
Simon added: "It has been a project team effort to get to this point and we are proud to once again work alongside one another to help create a much-needed teaching facility for Rumworth School and provide a stimulating learning environment where children and young people can continue to flourish."
The appointed contractor is Eric Wright Construction, civil and structural engineering is provided by Booth King Partnership and mechanical and electrical engineering is provided by Allcool NW Ltd and Aspull Electrical Services Ltd.