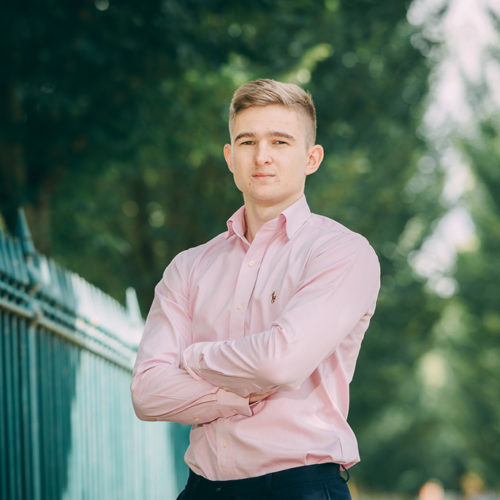 BACK TO ALL NEWS
Finlay's off to UCLan to study architectural technology
Our talented Finlay Woods, who has completed his apprenticeship at Cassidy + Ashton, is off to the University of Central Lancashire (UCLan) to commence his Architectural Technology Degree Apprenticeship.
Joining Cassidy + Ashton as an apprentice technician in September 2018, Finlay combined working in the practice's Preston office with completing several BTEC Level Three diplomas at Preston College, which he gained with distinction. He was then promoted to the role of junior architectural technologist on the completion of his apprenticeship.
Finlay's role at Cassidy + Ashton involves creating detailed proposal drawings using a range of design software including AutoCAD, Revit and Sketchup. He also supports colleagues carrying out site surveys, making building measurements and drawing up plans. These site visits enable Finlay to gain valuable experience interacting with clients and our business partners.
He will be commencing the five-year UCLan degree course directly into the second year which is testament to the valuable industry experience he has gained working in our practice.
During his studies Finlay will continue to work in Cassidy + Ashton's Preston office.
Alban Cassidy, director at Cassidy + Ashton said: "Finlay has gained an excellent foundation working at our practice and will commence his degree course with great confidence. The architectural technology degree course is very demanding, but we will support him all the way.
"By investing in the development of our employees as they start out in their chosen disciplines, ensures we continue to offer A+ careers, Finlay is no exception, he has demonstrated a genuine commitment to both his work and his studies and it is a pleasure to support him during his studies."
UCLan's Architectural Technology Degree Apprenticeship has a strong focus on developing the individual's creativity and professional employability. Students also learn to work with other professionals within the built environment that are involved in the design, construction and operation of buildings.
The course aspires to ensure students gain lifelong skills and are ready to take on a professional role in architectural technology as defined by the Chartered Institute of Architectural Technologists.
Finlay said: "Working at Cassidy + Ashton gives me the opportunity to work alongside people with different experiences and levels of knowledge. It's great to get to work on a variety of projects across a wide range of sectors. I like being challenged and particularly working on big projects, knowing that my colleagues have the confidence in me to deliver, yet are always there to support me.
"I'm looking forward to joining the other students on the UCLan degree course, sharing our ideas and experiences and working together on course projects. I enjoy learning new things every day and gaining rounded experience to place me in good stead for the future."
Cassidy + Ashton is supporting Finlay's studies by ensuring his work is relevant to his degree course. He has a dedicated mentor at the Preston office to support him during his studies and has day release to attend university. We also offer the flexibility to ensure he can complete course assignments as required and his colleagues are always happy to help answer his questions.
Finlay added: "On completion of my degree, I'm aiming to become a Chartered Architectural Technologist and reach the point where new starters and apprentices will come to me for help, and I can give back what everyone at Cassidy + Ashton has done for me."