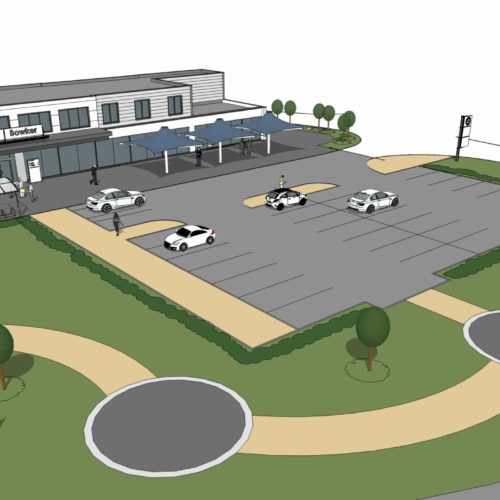 BACK TO ALL NEWS
First Pictures of Planned Bowker Motor Group Docklands HQ Revealed
Lancashire motor group Bowker has revealed the first pictures of its new planned headquarters building on Preston Docks.
The proposed development, designed by Preston-based architectural and planning consultancy Cassidy + Ashton, feature a first floor administration suite of contemporary offices for the group's directors, training and marketing department.
The ground floor has been earmarked for a new dealership – Bowker motor group's tenth – and the home of the recently-acquired BMW Motorrad operation currently trading as Southport Superbikes.
The detailed plans extend and enhance the existing nautical themed building by 4500 square feet providing in total 13,000 square feet at this prominent Preston docklands gateway location. It is currently occupied by event management company Glasgows, who are moving to new premises.
The plans also cover key environmental and sustainability considerations including underground surface water attenuation, efficient lighting and photovoltaics on the roof. The building itself includes an employee shower block in response to demand from employees cycling to work.
For Bowker Motor Group, managing director Tom Fox said: "We have worked closely with Cassidy + Ashton to design a building worthy of this landmark location. We have built and refurbished many dealerships now. Each time, we aim to go one better than the last, with a focus on the kind of quality and luxury befitting the prestige automotive brands we represent.
"The location of this building adds an extra dimension. It will become part of the lives of thousands of dockland motorists every day. And, as you can see from the plan drawings, its a responsibility we haven't taken lightly. We hope to create an iconic new commercial building to be enjoyed by customers old and new."
For Cassidy + Ashton, associate architect Lawrence McBurney said: "Bowker Motor Group is a growing business who are no strangers to creating stunning commercial destinations. So we knew from the onset that expectations would be especially high. We believe this new design, once built, will mean as much to the people of Preston as it will to valued Bowker customers."
Cassidy + Ashton have already worked with Bowker Motor Group on the Preston MINI dealership refurbishment in 2013. This latest six-figure investment will establish Bowker as the biggest motor dealer in the Preston area.
Bowker Motor Group already owned nine dealerships including BMW, MINI and Maserati franchises in Blackburn, Preston and Osbaldeston. Southport Superbikes became the tenth, joining Harley-Davidson Preston as the second prestige motorcycle dealership in the group.