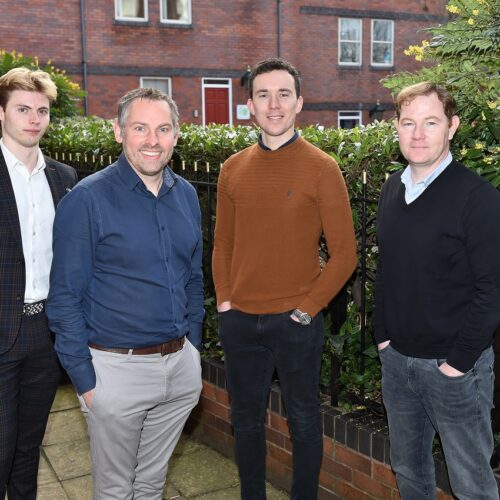 BACK TO ALL NEWS
Five new faces for Cassidy + Ashton's Chester office
We have strengthened our team with the appointment of five professionals to meet the growing demand for our architectural and surveying services in the Cheshire region.
We have appointed senior architectural technologist, Shane Dunne, and architectural assistants, Aaron Williams and Daniel Lay. Our building surveying team welcomes building surveyors, Iwan Cale and Harry Williams.
An accomplished architectural technologist, Shane works across a wide variety of sector-related projects. He joins us from Lovelock Mitchell in Chester.
Aaron returns to Cassidy + Ashton having spent a year working at another Chester practice. He first joined Cassidy + Ashton in 2019 and is in the final stages of becoming a Royal Institute of British Architects (RIBA) Chartered architect, resulting in a more active role in the day-to-day management of client projects.
Daniel, a graduate from the University of Liverpool has competed part one of the RIBA qualification and will continue his education towards full qualification, combining studies with his day-to-day work at Cassidy + Ashton.
Architect Dan Thorpe, head of architecture at our Chester office said: "It's fantastic to be able to build our team so quickly with five talented people. Shane brings valuable technical experience to the team and Daniel is enthusiastic about commencing his career at the practice. It's also great to welcome back Aaron, his building information modelling skills and design work is highly regarded by our clients.
Iwan, a Chartered construction manager with the Chartered Institute of Building (CIOB), joins Cassidy + Ashton's Chester office having previously worked at Flintshire County Council, Clwyd Alyn Housing Association and Curtins Consulting Engineers. He is a skilled building surveyor with vast experience in project management and looks forward to continuing his career at the practice.
Harry first joined Cassidy + Ashton in 2018. Returning to the practice, he brings with him valuable expertise in building pathology, contract administration and project management. Harry is currently working towards attaining his professional Royal Institution of Chartered Surveyors (RICS) membership status.
Dave Owen, director and head of the building surveying team at our Chester office, said: "Our building surveying services are in great demand in the Cheshire region and the appointment of Iwan and Harry certainly bolsters the team. They both bring valuable skills and experience to the Chester office."
Dan added: "These appointments reflect the scale of projects and new clients we have recently secured. It's an exciting time for our Chester office and we are delighted to welcome our new starters during such a positive period of growth."
Pictured below: Daniel Lay, Dan Thorpe, Aaron Williams and Shane Dunne from the Chester architecture and design team. Harry Williams, Dave Owen and Iwan Cale from the Chester building surveying team.