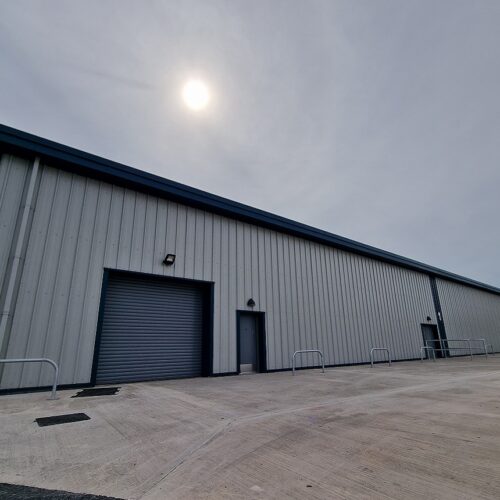 BACK TO ALL NEWS
Fleetwood food and fish processing park designed by Cassidy + Ashton ready to welcome tenants
Fleetwood's new food and fish facility on Fleetwood Dock, designed by Cassidy + Ashton, has been officially opened and handed over to Wyre Council. Work can now start to move in new tenants into the modern facility.
The 'Neptune Food and Fish Processing Park' is a modern commercial site purpose built by Lancashire company Conlon Construction to create a new home for fish processing businesses in the port. It was opened officially on August 10, 2022.
The project has been made possible by the successful joint bid by Wyre Council and Associated British Ports (ABP) for £4m from the UK Government's Getting Building Fund.
A collaborative approach has delivered the project, facilitated by the Lancashire Enterprise Partnership, as well as capital investment from Wyre Council to purchase the facility and financial support from Lancashire County Council's Lancashire Economic Recovery and Growth Fund.
ABP engaged Cassidy + Ashton to lead on the planning and design for the scheme.
Councillor David Henderson, Leader of Wyre Council, said, "We are incredibly pleased to officially open the new Neptune Food and Fish Processing Park in Fleetwood.
"The creation of a new facility on Fleetwood Docks has been a project high on our agenda for many years and we hope the project will unlock future investment for Fleetwood."
Debbie Francis OBE, Chair of the Lancashire Enterprise Partnership (LEP), said, "It's great that the LEP has been able to support this scheme which will help future proof Fleetwood's fishing industry and protect local jobs.
"Project Neptune will also help open up wider opportunities on the waterfront, such as new residential developments and new public realm. This means in addition to food production this investment will enable growth in other sectors, which is what the LEP's funding strategy is all about."
The modern light industrial units designed by Cassidy + Ashton offer the flexibility to divide the area into bespoke units to meet the requirements of the individual fish merchant tenants. The design also maximises the commercial use of a very restricted site riddled with numerous underground services.
Alistair Baines, Chairman at Cassidy + Ashton and head architect on the project said: "As a local architectural and town planning practice it has been very rewarding to play a major part in helping design and deliver a project so important to the town of Fleetwood and the local community.
"We are delighted to have been involved in achieving a successful outcome which I believe has been founded on a truly collaborative team effort and a partnership that has worked so well through very challenging times."
Darren Lee, Commercial Director for Conlon Construction, said: "The food processing industry in Fleetwood is a powerhouse for the local economy and this transformation of commercial space at Fleetwood Docks will shore up the industry for years to come. These contemporary, future-proof premises will provide occupants the space to grow and opportunity to thrive.
"Construction innovation has also been at the heart of the project. We have used carefully chosen materials and techniques, ensuring that the completed site is sympathetic in style to the surrounding area, and maintains its commercial viability."
Andrew Harston, ABP Regional Director for Wales and Short Sea Ports, said: "We're delighted to see the completion of Fleetwood's food and fish processing park. This project is an excellent example of how local government and businesses can collaborate to benefit local communities.
"As the UK's leading ports group, ABP has a network of 21 ports around the UK. In the North West, our ports of Fleetwood, Silloth, Barrow and Garston contribute £550 million to the UK economy every year, with the support of our customers."
Photographs courtesy of Conlon Construction