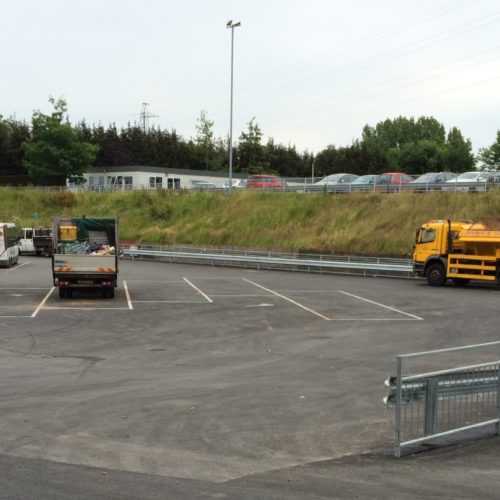 BACK TO ALL NEWS
On the Road to Enhanced Transport Facilities
Cassidy + Ashton, has enabled Halton Borough Council to manage its refuse, open spaces and general fleet vehicles safely and more efficiently following a wide ranging refurbishment of its Widnes depot.
The £1.2m investment in upgrading the facilities, which are in use 24/7, follows a feasibility study by Cassidy + Ashton which ensured that the project could be carried out without any interruption to services or impact on local residents or traffic movements.
Delivered in a phased programme of works over three years, the scheme included refurbishment of several buildings on site, new modular welfare buildings and reconfiguration of parking arrangements, vehicle storage and vehicle maintenance for both staff and service users to improve traffic flows and safety.
The site is split over two levels (upper and lower) and the project began with the phased refurbishment of offices on the lower level. Once this had been completed, the site's office-based staff moved into the newly completed offices, vacating pre-fab buildings on the upper level for demolition.
New modular buildings were then erected on the upper level to accommodate welfare facilities including toilets, showers, lockers and rest areas, for Refuse and Open Spaces staff. The vehicle workshop's mess room and toilet block was then refurbished to provide improved welfare facilities, including toilets, showers, lockers and rest areas.
The outdated welfare block, transport office and archive store on the lower level were then demolished.
With refurbishment of the staff accommodation completed, the project focused on reconfiguring external areas. The lower level yard was resurfaced and reconfigured with a more space efficient layout to create additional parking bays and an emergency tipping area to enable refuse vehicles to offload on site should they need maintenance work.
The upper yard was then resurfaced and reconfigured together with the construction and installation of new steps to enable staff to circulate safely between the upper and lower levels.
Finally, the surrounding roadways were resurfaced, retaining walls were constructed and new fencing erected to ensure that the site was fully enclosed and secure.
Comments Justine Cuerden, project manager at Halton Borough Council: "This was an extremely complex project which aimed to generate operational efficiencies whilst ensuring that we fulfil our duty of care to staff in terms of both safety and comfort."
Dave Owen, chartered building surveyor and director at Cassidy + Ashton, added: "This project not only involved design challenges but also required careful phasing to ensure that the depot remained operational and staff remained safe throughout. The result is a depot with safer, more efficient traffic flows and accommodation that meets the needs of the varied staff on site."