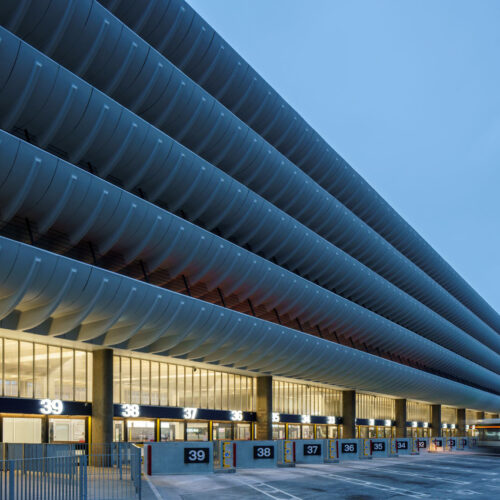 BACK TO ALL NEWS
Preston Bus Station redevelopment scoops international monument award
A project in which Cassidy + Ashton's Preston team played a major role has won yet another award, this time on the international stage.
The NY World Monuments Fund (WMF) has awarded London-based architects John Puttick Associates (JPA), the 2021 World Monuments Fund/Knoll Modernism Prize, recognising its thoughtful and detailed conservation of Preston Bus Station, located in Preston, Lancashire.
Cassidy + Ashton acted as planning and heritage consultants on the project while the architect and design team worked alongside JPA – the winners of the international award – providing advice and contract management throughout the construction of the concourse refurbishment of the bus station.
Director, Alban Cassidy, speaking about the most recent award, said: "We are delighted to congratulate JPA on winning this prestigious, international award that has helped put Preston on the world map for architecture. It was a joy to work on the project and even though it was completed some time ago it is a source of great pride that it is still being recognised by groups such as the World Monument Fund."
The NY World Monuments international award recognises architects, designers and preservationists who have demonstrated innovative solutions to preserve or save threatened modern architecture. It celebrates sustainable, community-centred approaches to adapting modern buildings.
Designed and built in 1968, Preston Bus Station is a civic monument that serves as a transport hub in the city centre. Representative of architecture and transport planning of the post-war era, the bus station's brutalist concrete housed an integrated car parking, bus and taxi facility.
In 2000 the bus station was threatened with demolition until a long-running campaign, backed by Historic England and the Twentieth Century Society, to have the building listed, saved it. It was then purchased by Lancashire County Council in 2014 who unveiled a £19m redevelopment scheme to turn it back into a modern transport hub.
This is the third major award for the Preston Bus Station redevelopment scheme, and the first international award. The bus station previously won a RIBA National Award, which is given to buildings across the UK recognised as significant contributions to architecture.
Cassidy + Ashton also won the Heritage and Culture Award category in the 2019 RTPI North West Planning Excellence Awards in recognition of its team's involvement in the redevelopment and refurbishment of the Preston Bus Station.