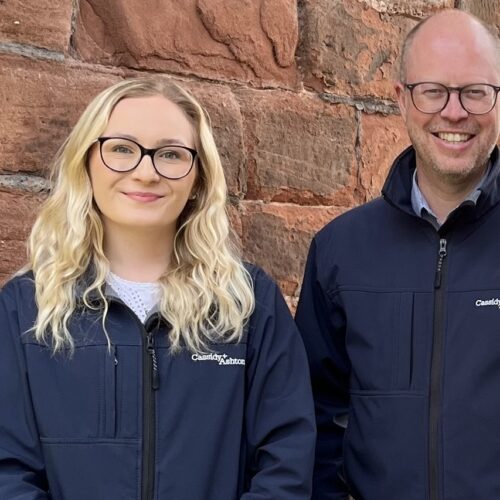 BACK TO ALL NEWS
Town Planner Olivia gains MRTPI accreditation
Olivia Forde, based at our Chester office, has recently become a Chartered Town Planner MRTPI, having been successful in her application to the Royal Town Planning Institute (RTPI) via the Licentiate Assessment of Professional Competence (L-APC) route.
Olivia, who joined Cassidy + Ashton in 2021 with a first-class RTPI accredited degree in MPlan Town and Regional Planning from the University of Liverpool, has been learning on the job and with over two-years' professional experience under her belt she has made the step up to gain Chartered status.
RTPI is a leading membership organisation and a Chartered Institute responsible for maintaining professional standards and accrediting world class planning courses nationally and internationally.
Guy Evans, director and head of the planning team in our Chester office said: "Olivia has really worked hard to gain this valuable status and we are very proud of her achievements.
"MRTPI accreditation is an important accolade and demonstrates a commitment to the town planning profession and in maintaining good planning ethics and principles. Investing in our team and encouraging everyone to seek their full potential is important at Cassidy + Ashton, and it ensures we continue to deliver great work and a first-class service to clients."
Olivia enjoys being involved in a diverse range of planning projects, working on a variety of schemes across the practice, including educational, residential, commercial and heritage schemes as well as glamping projects for the leisure sector.
She is particularly interested in strategic planning and is passionate about navigating complex planning issues, managing the expectations of various stakeholders to development, and ultimately achieving positive interaction between people and places.
She added: "Cassidy + Ashton has been brilliant in supporting me to gain my professional qualification and I really enjoy the variety of work we cover at the Chester office. It has certainly helped me to prepare a well-executed final submission, due to the sheer variety of projects I am involved on.
"Armed with my chartered status, I look forward gaining greater responsibility as a town planner and working on more challenging planning projects, as well as continuing opportunities to deal directly with clients and business partners."