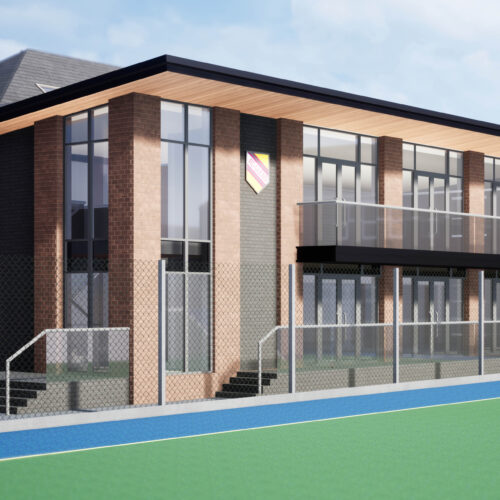 BACK TO ALL NEWS
Work commences on new Cassidy + Ashton education project at Withington Girls' School
Work has started to improve existing dining facilities and create a multipurpose space for hospitality and group activities at Manchester-based Withington Girls' School, an independent day school for girls aged 7 to 18.
The project, which has been designed by the architectural and design team at Cassidy + Ashton, will increase the capacity of the school's dining area and includes upgrading of kitchen facilities and serving areas.
The first storey extension to the existing building will provide a flexible, multi-purpose space and hospitality area with a viewing deck overlooking the adjacent playing fields.
Sarah Haslam, headmistress at the school, said: "The dining areas are where pupils and staff gather to relax and catch up with friends and colleagues while enjoying a tasty and nutritious meal or snack. We have missed being able to dine together as we did before the pandemic, so we are particularly delighted that the end of 2021 will mark the completion of this exciting project, the benefits of which will be enjoyed by each and every member of our school community."
The pupil dining experience will be much enhanced, with the introduction of a second servery and additional seating area improving the flow of pupils during lunchtimes.
Catering Manager, Sarah McGuffie, explained: "This will allow a more relaxed and interactive experience and will give the girls the opportunity to ask questions, sample dishes they might not normally try and have the time to sit and enjoy their lunch with their friends. The large doors of the dining room extension will allow light to flood into the dining room and, in good weather, will connect the dining room to the outside areas.
"Pupils will enjoy a wider range of options and will be able to mix and match their lunch choices, creating a substantial, nutritious meal that suits their dietary requirements and preferences."
Cassidy + Ashton chairman and head architect on the project, Alistair Baines, said: "It's always a pleasure to be involved in design projects that improve school life for students. We are proud to continue to be a trusted partner for Withington Girls' School, having previously been involved in the design and creation of its upgraded sporting facilities."
With a brief to expand the school's dining area to increase its overall capacity and improve efficiency, Alistair explained that adding a first floor to the existing building to create a large function suite would be a cost-effective way of creating a multi-purpose for the building.
He added: "Not only will the additional first floor provide a large space for a wide range of activities for students, we have incorporated into the design an outdoor spectator area for watching sporting activities on the adjacent playing field, which also offers an excellent vantage point to showcase the school's top-class sporting facilities."
Major work on the project will take place during the Easter and summer holidays and work will be completed by the end of the year. Cassidy + Ashton and John Turner Construction Group, which were both involved in the successful development of the school's upgraded sports centre and fitness suite completed in 2018, are carrying out the work.
Withington Girls' School located in Fallowfield, Manchester, is a leading independent day school for girls aged 7 to 18. It was named North West Independent School of the Decade by The Sunday Times in 2020.