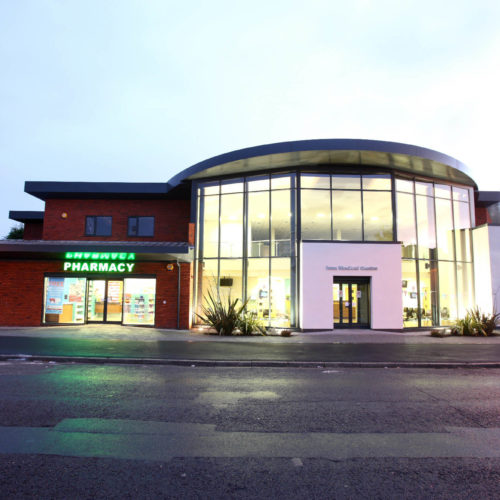 BACK TO OUR WORK LANDING PAGE
Issa Medical Centre
Location: Preston
Client: HBS Group
Type: New Build
Status: Completed
The Issa Medical Centre is a collaboration of numerous local Professional Consultants, with the single aim of providing first class medical facilities in a challenging area.
The success of the project can be seen through the significant contribution it brings to the neighbourhood, through regeneration and the future creation of facilities the accommodation offers.
Located opposite Preston North End's football ground, the Medical Centre contains a Practitioners, Dentistry, Pharmacy, and Opticians; plus future provision for further Practitioners on the first floor and Conference facilities.
The provision of Healthcare within England is going through a radical change, and because of this, there is a shifting concept to provide public medical facilities all under one roof. The aim was to provide a state-of-the-art Medical Centre for the Practitioners and Staff and, in turn, enhance the quality of care for community residents.
In terms of the layout, each of the main elements of the proposal (e.g. dentist, optician, pharmacy, doctors surgery) will be served by their own main entrances, as well as benefiting from internal connections, in order to ensure maximum accessibility and to make the building easily negotiable for patients who require one specific service.
For most patients, the provision of health services begins with the receptionist and the experience of waiting for a GP in the waiting area. An electronic appointment system directs patients to directed waiting areas, all visible of an internal courtyard with a feature water fountain. Throughout the building are framed artwork displays, all produced by local school children. These give the building an excellence backdrop of colour and warmth, whilst at the same time installing pride to all those involved.
Future growth is greatly anticipated, so a further surgery located on the first floor has been designed into the scheme, with full disabled access. With its simple planning and community facilities the centre aims to localise health provision and act as a positive catalyst for further regeneration of the area.
Minimising the Carbon Footprint of the project was also a key factor to life cycle costs of the building. Accordingly, the Client has installed solar water panels on the roof to feed all the hand basins in each room. Furthermore, the utilisation of air-source heat pumps, underfloor heating and the latest energy efficient lighting has also been installed.
Our team
Project architect: Chris Taylor