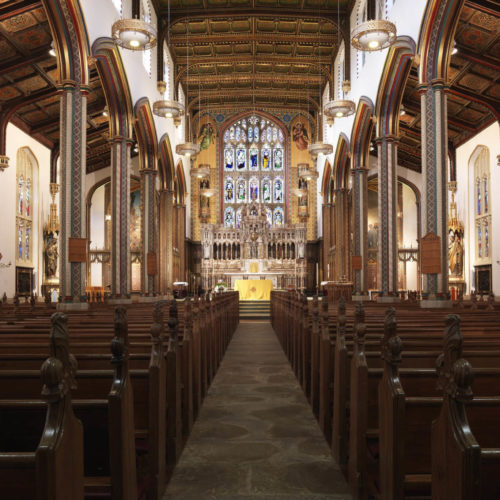 BACK TO OUR WORK LANDING PAGE
St Peter's Church, Stonyhurst College
Location: Stonyhurst College, Lancashire
Client: Society of Jesus Trust
Type: Refurbishment | Listed
Value: £1.5 million
Status: Completed
St Peter's Church is a very important and significant Church. It was the first major work of the Architect J J Scholes (1798 – 1863), and the beginning of his long successful association with the Jesuit Order.
The Church is a Grade I Listed Building which was constructed during the period 1832 to 1835 in the Gothic Revival Perpendicular style.
The Society of Jesus commissioned a Condition Report which identified considerable repair works associated with the Church, together with appropriate Refurbishment recommendations.
Stonework and décor had been damaged through weathering and water ingress, which had to be replaced and restored. Significant amounts of stonework had decayed and in some cases pieces of stone could not be removed because the stained glass was supporting them. In addition, the heating system was very inadequate, the stained glass windows were in need of re-leading and cleaning, the light fittings did not provide enough light above the pews; extensive historical stencilling had been covered up. All in all, the Church looked tired, and in need of considerable repair and restoration.
The Refurbishment works included:
The repair and re-leading of the stained glass windows to restore them to their former glory
Extensive external stone repairs to window tracery and the main fabric of the building
Complete Re-roofing and the re-leading of gutters
The provision of new Cast Iron rainwater pipes and hoppers
The removal of the internal wall surfaces which exposed extensive stencilling from the 1850's and the 1950's which had been covered by whitewash paint
A small part of the 1850's stencilling in the North Aisle and the 1950's stencilling in the South Aisle has been partially exposed to provide a link with the past
The redecoration of all wall surfaces, window surrounds and mullions
The cleaning and restoration of the magnificent ceiling in both the Nave and the Side Aisles
The restoration and re-painting of the East wall behind the Sanctuary in the 1850's stencilling
The provision of new light fittings has not only to throw light upwards to illuminate the ceiling, but also provided down lighting to the pews
The introduction of emergency lighting into the ends of the pews
The provision of new carpet and trims to the Sanctuary and the general cleaning of artefacts within the Church
The provision of under floor heating and the retention of the existing radiators for decorative purposes only
The redecoration and lighting of the Silence Gallery
The provision of Disabled Access via the Coffin Door and a new Disabled WC accessible to the public
The restoration of the Church was funded by the Society of Jesus Trust and was completed in October 2011.
All of this has breathed new life into St Peter's Church which future generations will now be able to enjoy.
Our team
Project architect: Michael Hartley (now retired)
Project planner: Alban Cassidy