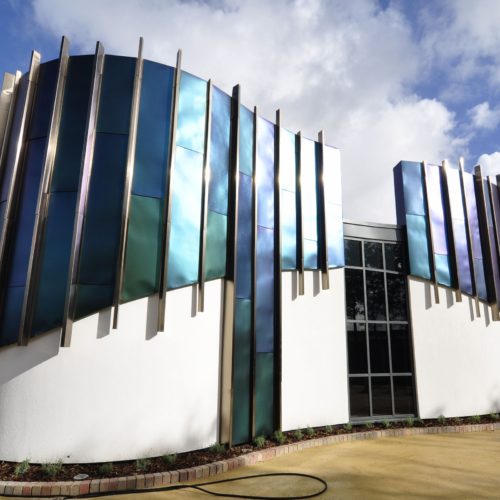 BACK TO OUR WORK LANDING PAGE
The Langdale Centre
Location: Bispham, Blackpool
Client: Blackpool Council
Type: New Build
Value: £1.2 million
Status: Completed
There was a need to modernise the current day care provision for people with learning disabilities in Blackpool, its aim being to maximise the opportunities for service users to be socially included into main stream facilities wherever possible.
In 2012 The Langdale Centre was officially opened. The Centre was located in the existing Bispham Library Building which was partially demolished, redeveloped and extended to provide a new Day Centre for people with learning disabilities.
Cassidy + Ashton prepared the design for the redevelopment which included a new build extension to the former library building to provide a sensory pod together with internal modifications to the existing building to provide multi use spaces for special needs use.
The proposed plans make good use of the existing library footprint with the new build element being linked by way of a sweeping curved wall that leads out and forms the external wall of the new extension. This curved extension provides a strong contrast to the retained rectangular building. The elevations are also designed to be very different to the main building.
Lower panels of white render have been used to keep a clean modern look which help set off the vertical panels of metal cladding panels of the new extension. The Rimex Cladding System provides striking colour variations. The colours have been chosen to also help to link the building with the surrounding landscaping.
Our team
Project architect: Lawrence McBurney
Project planner: Alban Cassidy