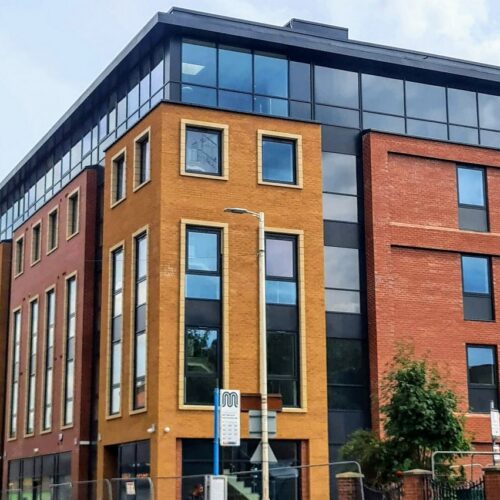 BACK TO ALL NEWS
YMCA opens new £6.1m facility for young people in Bolton
YMCA's multi-million-pound project to create a new five-storey independent living facility for young people in Bolton is now complete and open for occupancy.
The new building, called 'Y-Pad' and designed by Preston architects Cassidy + Ashton, has transformed YMCA's existing community and drop-in centre on Deansgate to create forty modern self-contained apartments for young people in Bolton aged between 18 and 25.
On completion of construction, which was carried out by Walter Carefoot & Sons, the facility has been handed over to YHousing for YMCA Bolton to manage and young people began moving into the new premises during the summer.
As well as providing the opportunity for young people to move out of supported accommodation and foster care and become more independent, Y-Pad's ground floor houses Bolton Y-Zone, enabling the continuation of YMCA Bolton's youth services.
Andy Drake, chairman of YHousing said: 'We are all facing a cost-of-living crisis but for young people the challenges are even more magnified, so the YMCA's services and support are more important than ever."
The Bolton Y-Pad project is a collaboration between YMCA Bolton and YHousing (YMCA Blackburn).
"Fundamental to the YMCA offer is quality housing which aims to not just put a roof over a young person's head but also provide a stable, secure and supported base from which a young person can build a resilient and independent life for the rest of their life," added Andy.
"This is why YHousing, YMCA Fylde Coast and local YMCA partners in Bolton are proud to offer this new development with 40 apartments available to the local community's young people.
"Having been borne out of partnership, our hope is that the young lives abiding within this development will be supported and guided by not just the YMCA but also the local community, statutory services and other organisations who together are able to help local young people be all they can be."
Alistair Baines, Cassidy + Ashton's chairman and head architect on the project said: "It has been a real pleasure to be involved in such an important and much needed facility and to help bring life to YMCA's vision for the Bolton community.
"This has been a significant regeneration project in the heart of Bolton's town centre conservation area. We chose a contemporary, aspirational design for the building, taking into consideration features and materials that reflect the same flavour and architectural language as the surrounding historic buildings.
"By incorporating large, glazed areas and the use of modern materials, the new building offers a light, spacious facility and a welcoming environment for young people to realise their independence."
Andrew Cross, managing director, Walter Carefoot & Sons added: "I am delighted by the end results of this fabulous new YMCA building in Bolton. We have left a legacy for many generations of young Bolton people by providing residencies that have been built with care and skill."
YMCA enables people to develop their full potential in mind, body and spirit by creating inclusive and energising communities where young people can truly belong, contribute and thrive.
Photography courtesy of Walter Carefoot & Sons