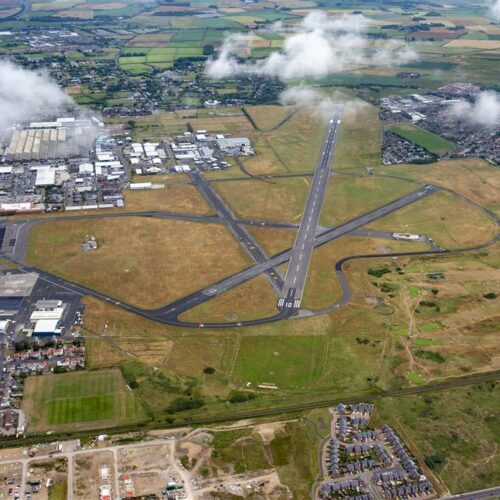 BACK TO ALL NEWS
Plans submitted by Cassidy + Ashton for new Blackpool Airport hangars
Cassidy + Ashton has unveiled exciting plans to Blackpool and Fylde Council that could see the first new building development at Blackpool Airport in over 15 years.
As part of the Blackpool Airport Enterprise Zone, outline planning consent is being sought for three 20,000 sq. ft hangars suitable for light general aviation and small planes, including small corporate turboprops and warbird aircraft.
The application also includes two hangars capable of housing larger planes such as a Boeing 737 or Airbus A321 for maintenance, repair and overhaul activities.
Detailed planning permission is also being sought for a new road off Amy Johnson Way to access both sets of hangars, plus a small 6,000 sq. ft commercial business unit fronting Amy Johnson Way opposite Chorley Group garages.
Financial support to build the new access roads to the hangars, as well as the new link road, has been provided through a £7.5m grant from the Government's Town Fund programme.
The development of the new Airport East hangars signals a period of regeneration for the airport and surrounding land, as part of the main Blackpool Airport Enterprise Zone masterplan.
Cassidy + Ashton will be submitting further plans relating to other critical infrastructure at the airport including the Air Traffic Control tower and rescue and firefighting services later this year.
Senior planning consultant at Cassidy + Ashton, Claire Parker, said: "Cassidy + Ashton is delighted to have supported Blackpool Council in submitting the first major application at Blackpool Airport, which reflects the vision of the Enterprise Zone Masterplan.
"This project will support the longevity of the airport, which is an important transport hub that plays a key role in the continued success of the Enterprise Zone. It will also ensure that wider aspirations for the development of this area can be met, and future development brought forward."
Blackpool Airport is the second busiest general aviation airport in the country, with almost 30,000 aero club and private take offs and landings in 2022, and the new general aviation hub will support that flying community.
Cllr Gillian Campbell, chair of the board at Blackpool Airport Operations, said: "This is a major step forward for our historic airport. For over 100 years Blackpool Airport has been a huge part of our local area and economy. It is a mammoth task to redevelop it while also keeping it open for our customers, but we will make it work.
"Our general aviation community is vitally important, along with our flight training operators, and these new hangars will create purpose-built facilities for them close to the runway. We can then explore further potential developments over the coming years.
If approved, the hangar plots will be available for developers and occupiers to build over several years on a phased basis, enabling work to build the new access roads starting in the next six months.
Cllr Mark Smith, Blackpool Council's Cabinet Member for Levelling Up (Place), at Blackpool Council, said: "We're working hard to make sure that we can support an airport that is commercially successful and a leading transport hub."It is a complex task to redesign a working airport while keeping it fully operational and that can't happen overnight. I'm delighted that we are now able to make forward strides that will help protect the airport and help to make Blackpool better."